Arguably one of the most powerful episodes of 12 Hats Radio so far.
We all know the power of PR and earned media can do for your brand. Now imagine using that power of influence to save an innocent man's life.
Today's guest Tracy Lamourie from Lamourie Media in Ontario, Canada. has done exactly that! With a template downloaded from the internet, she had managed to get the conversation flowing to release an innocent man off death row in Pennsylvania. That innocent man is now the R&B artist Jimmy Dennis.
More about Tracy
Tracy Lamourie is the Founder and Managing Director of Lamourie Media, a 2020 Universal Women's Network Woman of Inspiration winner for Women in Media and the author of the upcoming book GET REPPED - Build Your Brand With Effective Public and Media Relations. She is a well known long time advocate on a myriad of important worldwide issues and an award-winning international publicist working across industries from major entertainment projects to small businesses. Tracy is passionate about amplifying important messages and being a voice for those who most need one. Recognised by media around the world for her 20-year campaign that ultimately helped free an innocent man from death row to her work getting clients major media attention and for her local community work, Winner of the FIRST PLACE PLATINUM award HamiltonSpectator ReadersChoice for PR 2018, Diamond 2019 and has been frequently quoted in the international media on both human rights issues and as a Public Relations thought leader . She is a 2020 RBC Women of Influence Nominee and was also nominated for the internationally prestigious 2020 Tällberg/Eliasson Global Leadership Prize. She frequently speaks on empowerment, entrepreneurship, leadership, how to get media attention, how anyone in any industry can get to the top of their field, on authenticity in business, on all aspects of business communications
https://medium.com/authority-magazine/rockstar-publicists-be-real-be-authentic-be-you-dont-be-cookie-cutter-with-tracy-lamourie-fc6abf61f4e
https://www.prosperipress.com/tracy-lamourie-the-media-mogul-who-founded-her-empire-on-kindness/?fbclid=IwAR1aTBSf6CtxltyJXn0wjbA-qFU0y8Plux-mU_3xVUk37OGjkSHyHhMtKd4
Follow Tracy on Instagram https://www.instagram.com/tracylamourieprmedia/
Tweet me direct @12_hats and use the hashtag #12hatsradio
Leave a 5-star review on Apple
Check out my YouTube channel The Friendly Futurist, with raw interviews and answers to some of the big questions about the near future and so much more: https://www.youtube.com/channel/UCUXMpOlkAKsNbto9MVnJPDw
Leave me a message via Speakpipe: https://www.speakpipe.com/12hatsmedialab and who knows I may replay the message next episode!
Check out my other podcast The Bunker List here: https://podfollow.com/the-bunker-list/view
If you are excited about the future as I am why not check out my new weekly show The Friendly Futurist? https://podfollow.com/the-friendly-futurist
Creating weekly podcasts is thirsty work, so why not shout Dave a tasty soy flat white?
And support your local independent media with a tip or donation, we love what we do and you can show your appreciation via: https://www.buymeacoffee.com/podcastwest
Save the Planet! Buy ethical slow fashion from Stride Store! Use https://www.stridestore.com.au/?ref=3uxqxng2jgcq and the Coupon Code DAVEFROMHATSRAD to get 10% off your purchase!
12 Hats Radio
All marketing podcasts are created equal, some are more equal than others. Rather getting technical, jargon-filled and dry. Join us each week as we chat a different marketer, podcaster or startup entrepreneur on their life journey and share light-hearted stories, a few laughs about failures and what wakes them up in the morning.
Why 12 Hats? Well that is the number of roles an entrepreneur plays when running their startup or a marketer plays when dealing with a client.
Meet the Hosts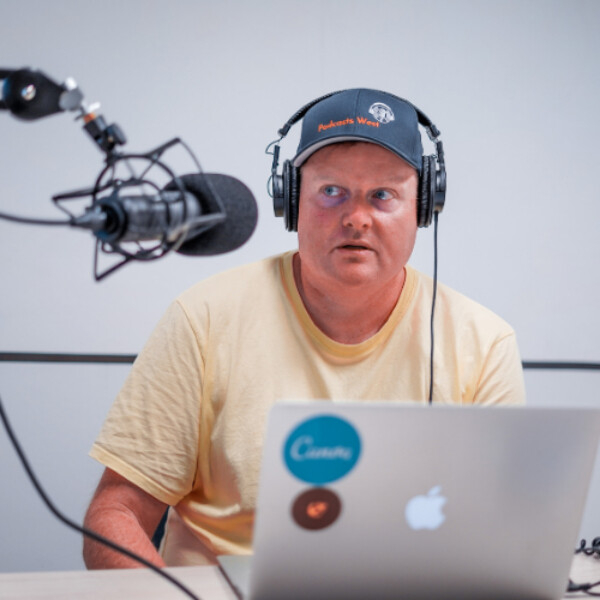 The Mastermind behind the 12 Hats Movement.
Dave has previously worked on community radio, has completed two Masters degrees in Marketing. He is also passionate about using the power of marketing and communications for social change and chatting to fellow entrepreneurs.
Whilst you are here why not check out his other project The Friendly Futurist, by clicking on the YouTube icon above?
Support Us