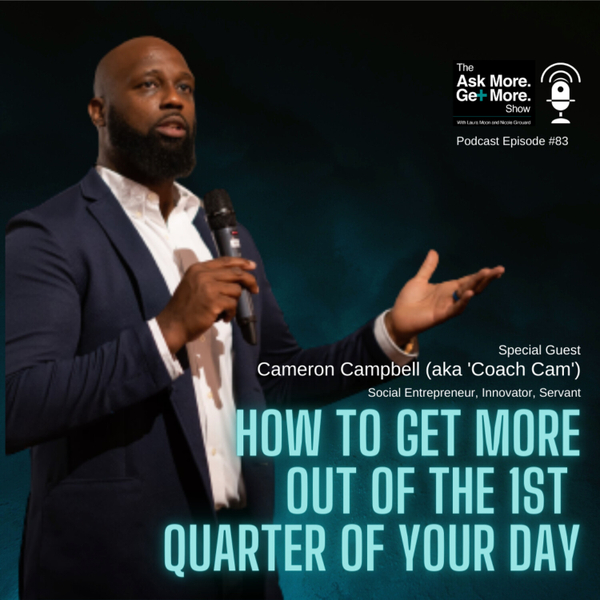 Today we are joined by Cameron Campbell, also known as Coach Cam, to discuss how to win the 1st quarter of your day!
About Coach Cam:
Cameron Campbell, affectionately known as Coach Cam, is a servant, sports enthusiast and social entrepreneur who has spoken more than a thousand times for various sports and philanthropic organizations including the National Football League (NFL), National Basketball League(NBA) and Major League Baseball (MLB).
He is a former division one (D1) football athlete and graduate of the University of Houston who transformed his passion for sports into a career serving students as an Athletic Director and Head Coach where he was recognized as the all time winningest coach. He is currently empowering others as a business consultant and owner of Texas Athletics Construction and will be releasing his highly anticipated book, Win the 1st Quarter of Your Day: Playbook For Wealth, Health, & Success 2020.
You can find Coach Cam here:
https://coachcamcourses.com/
JOIN THE MOVEMENT TODAY: https://www.bareslate.ca/the-get-more-movement
~~~~~~~~
Watch the Ask More. Get More. Show on YouTube: https://www.youtube.com/c/BareSlate
~~~~~~~~
Be a guest on the show!: https://bit.ly/3bDr81A
~~~~~~~~
Listen to the Bare Slate Get More. podcast: https://pod.co/get-more-with-bare-slate
~~~~~~~~
Website: https://www.bareslate.ca/
~~~~~~~~
LinkedIn: https://bit.ly/2zbafwD
~~~~~~~~
PR/Media Requests: [email protected]
*please note that some links may be affiliate links and we may receive a small commission. It does not affect you as the buyer at all. Thank you for supporting the show!
The Ask. More. Get. More. Podcast
Welcome to The Ask More. Get More. Podcast.
In depth conversations with Bare Slate Leaders Laura & Nicole as they talk to industry professionals to collaborate and share new thoughts, ideas, and practices in the ever changing world around us.
The aim of this show is to speak with, and learn from, subject matter experts to find out how they are Getting More out of their area of expertise, and how we can learn to Get More in that area too!
You are one conversation away from changing your life and getting more!