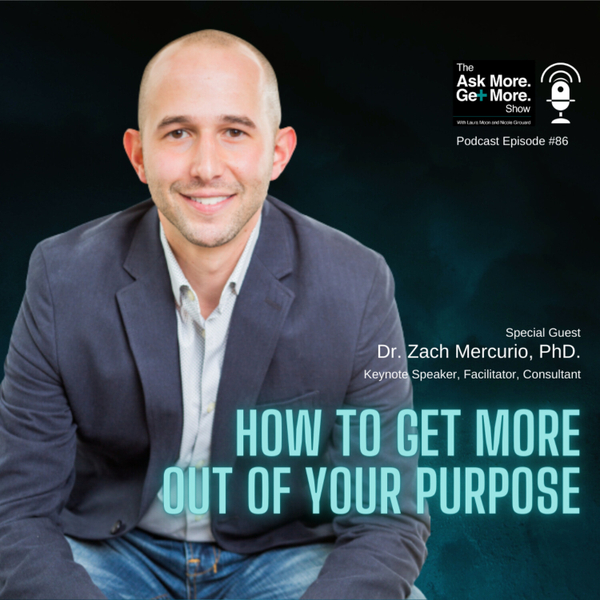 Get Dr. Mercurio's book here: https://amzn.to/3lKKtmt 
Today we are joined by Dr. Zach Mercurio, PhD. to talk about how we can get more out of our purpose.
Zach believes everyone is built for purpose, desires meaningfulness, and deserves dignity and fulfillment in work and life.
He is an author, speaker, consultant, and researcher specializing in purposeful leadership, meaningful work, and positive organizational development.
Zach wrote "The Invisible Leader: Transform Your Life, Work, and Organization with the Power of Authentic Purpose" to provide individuals, leaders, and organizations with the tools to activate their purpose and create cultures where everyone matters. It was praised by Arianna Huffington as "a compelling book filled with powerful stories, cutting-edge research, and practical tools that show us how to lead with purpose."
Connect with Zach to learn more:
@ZachMercurio on Twitter and Instagram
Facebook: https://www.facebook.com/ZMercurio/ 
Web: www.ZachMercurio.com 
Email: [email protected]  
~~~~~~~~
JOIN THE MOVEMENT TODAY: https://www.bareslate.ca/the-get-more-movement
~~~~~~~~
Watch the Ask More. Get More. Show on YouTube: https://www.youtube.com/c/BareSlate
~~~~~~~~
Be a guest on the show!: https://bit.ly/3bDr81A
~~~~~~~~
Listen to the Bare Slate Get More. podcast: https://pod.co/get-more-with-bare-slate
~~~~~~~~
Website: https://www.bareslate.ca/
~~~~~~~~
LinkedIn: https://bit.ly/2zbafwD
~~~~~~~~
PR/Media Requests: [email protected]
*please note that some links may be affiliate links and we may receive a small commission. It does not affect you as the buyer at all. Thank you for supporting the show!
The Ask. More. Get. More. Podcast
Welcome to The Ask More. Get More. Podcast.
In depth conversations with Bare Slate Leaders Laura & Nicole as they talk to industry professionals to collaborate and share new thoughts, ideas, and practices in the ever changing world around us.
The aim of this show is to speak with, and learn from, subject matter experts to find out how they are Getting More out of their area of expertise, and how we can learn to Get More in that area too!
You are one conversation away from changing your life and getting more!