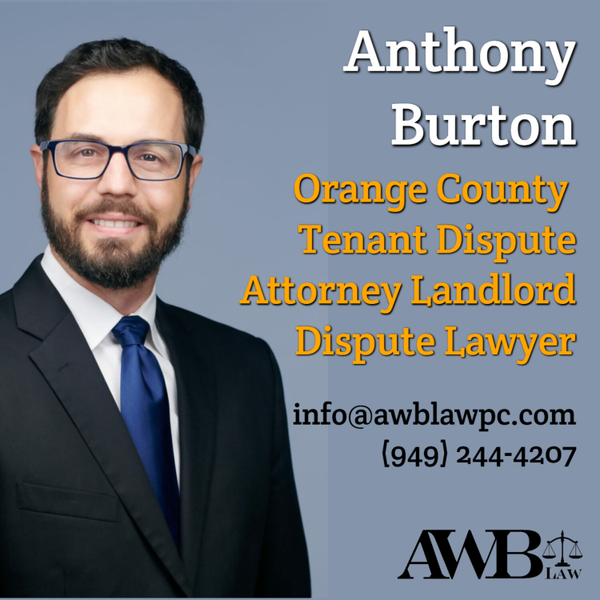 In this episode, we talked with Anthony Burton, who is the Managing Partner at AWB Law in Orange County, California.
In this episode, he'll share his experience with us as an Orange County CA Tenant Dispute Attorney & Landlord Dispute Lawyer
1100 West Town & Country Road, Suite 1250, Orange, CA 92868.
(949) 244-4207
Orange County - Tenant landlord Disputes, Title Dispute
Anthony is the founder and managing partner of AWB Law, P.C. Anthony Burton has spent his career litigating and fighting on behalf of his clients whether their needs arise from an injury, a real estate dispute or a business dispute.
Anthony is admitted to practice in all courts in the State of California, the United States District Court for the Central District of California and the United States District Court for the Southern District of California. Anthony is a member of the Executive Committee of the Real Estate Section of the and Orange County Bar Association, a Board Member of the Robert A. Banyard Inn of Court, an Associate Board Member of Project Self OCBF (Formerly Orange County Bar Foundation), a member of the Orange County Trial Lawyers Association, a member of the Celtic Bar Association, a member of the Government Affairs Committee of BOMA Orange County.
Per the Company's Website: OUR MISSION
Our firm's mission is to provide timely, high quality legal services to our clients who have real estate needs. Our firm's principal is highly experienced in filing and handling lawsuits which has given him a unique perspective on how real estate matters can turn into battles which require a Court to sort them out.
We set a very high standard for practicing California real estate law. We understand that our clients have substantial investments in their real property and that all available steps should be taken to protect them and their investment. Our attorneys work very closely with our clients to evaluate their legal needs and prepare legal strategies that best serve our client's interests and needs.
The full video podcast can be found at: https://youtu.be/lqsdZwNJSIo
Visit AWB's Google page here: https://bit.ly/OrangeCATenantLandlordAttorney
http://www.theattorneypost.com/anthony-burton-irvine-anaheim-orange-county-ca-tenant-dispute-attorney-landlord-dispute-lawyer/
The Attorney Post
Welcome to the attorney post, your source for the inside scoop on current legal news. On this podcast we will interview leaders in various facets of the legal field, help you to understand the various ins and outs of what they do, and cover the basis of some of the most burning questions people have when looking into these facets of law.
SPONSORS: Injury Attorney Leads and ROCKETSEO
https://mva.injuryattorneyleads.com
Meet the Host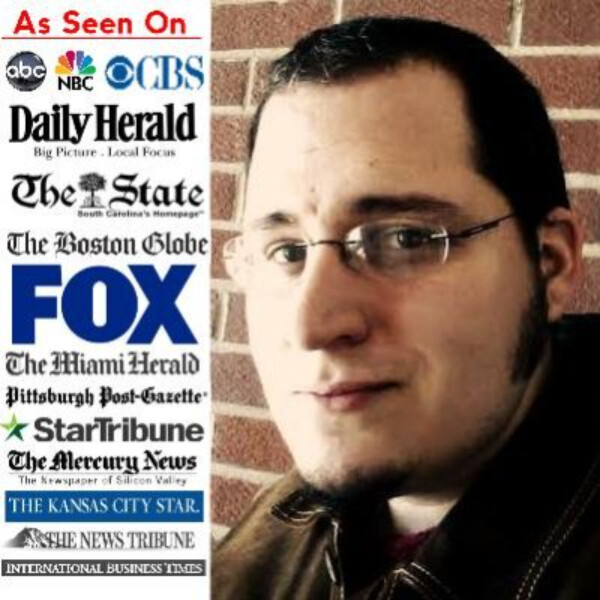 Justin West is a digital marketer and the chief cook and bottle washer at Hundreds of Customers LLC, and the host of The Attorney Post.
Justin holds a BA in Philosophy and a BA in History. He dabbled in going to law school (but really just "liked taking the pLSAT tests) and got into marketing as he was pursuing his Ph. D. in Philosophy. Married with 5 kids, he jumped into entrepreneurship and never looked back.
He loves meeting new people and learning from the life experience of each attorney he get's the opportunity to speak with.