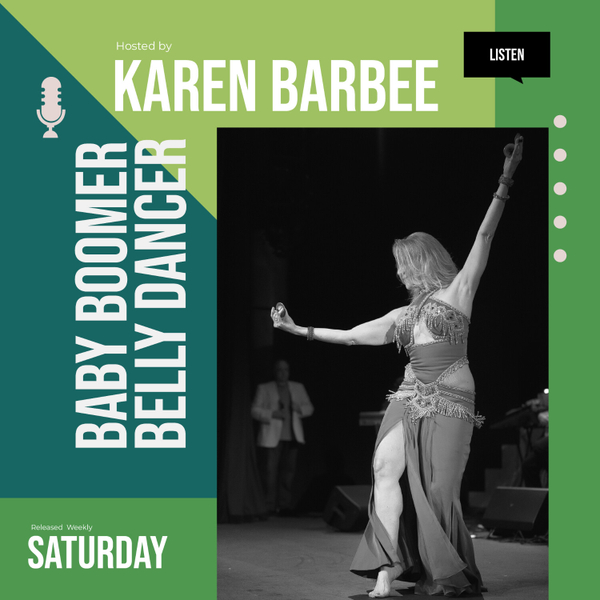 Over the last decade, Karen has been making it possible for people to learn and appreciate the art of belly dance wherever they are in the world through the power of technology.
Join us for a behind the scenes conversation with Kathy Swanson (The Marketing Maverick behind the marketing automation, Karavan Online, and everything digital) and videographer Gylon Jackson (The Tech Guru with all the toys and gadgets).
We explore Karen's journey, how she "didn't feel a thing" in her business when the pandemic hit the dance studio industry, and how dancing to live music (even remotely) has evolved with Project Band.
During this episode of the Baby Boomer Belly Dancer, we talk about:
00:00 Wow! Kathy and Gylon are on this side of the studio
00:25 The evolution of the technology of Karavan Studio over more than a decade
01:34 How Gylon came on board with "Belly Dance Fun" and the video equipment
04:33 How Kathy met Karen -- with more than "pretty spreadsheets" ; )
06:38 How many times the website design and platform have been redesigned
08:03 Evolving the belly dance journey with someone who loves the live music experience
09:31 Realizing the possibility that anyone on (or off) planet can access learning how to belly dance on any level with Karen because of the technology
10:33 Sharing Karen's love of improvisation and live music
11:03 The evolution of content and creating a foundation -- beyond "YouTube learning"
12:51 Learning from a guide versus idolizing instructors as a dabbler
16:18 Moving forward, keeping up, and always changing with industry and technology
16:37 Kathy's "why-to" book and the value of focus in the face of choices
18:30 Guest instructors are students of Karen Barbee -- even with different styles
19:50 Karen's favorite part of the technology 
21:37 Why when everything tanked last year with COVID, Karen didn't feel a thing
23:02 Choosing to dance to live music for a live streamed event during a pandemic
23:48 When we almost got arrested because of murky City of San Antonio ordinances
25:31 In the face of adversity comes innovation -- and the dancers loved it
27:37 Making it easy for dancers to schedule and show up for private lessons
28:07 Having things already online and not having to educate the dancers
28:50 GBDAC2020 -- figuring out what were we going to do, Project Band dancers, and live music
30:11 Pulling off GBDAC202020 remotely and live across the country
38:20 Now dancing remotely to live music is not a big deal and we do it regularly
40:14 Now Project Band is open to people wherever they are on the planet
40:49 Changing expectations during a pandemic -- clear plexiglass is not the same
42:32 GBDAC2021 is looking good for October 1-3 in San Antonio and how we will do it
44:22 The Road to GBDAC2021 and creating content for our audience before and during the event
47:51 The tools for online marketing now are amazing, integrated, and more affordable
48:40 Letting technology and automation help you be more creative and do the (im)possible
51:15 A belly dancer with her own music on cassette and CD... and now on Spotify and iTunes
52:53 Self-publishing a coloring book of Sara's drawings and Karen's philosophy topics
53:45 The things Gylon and Kathy wish Karen would do
56:48 Ranting on belly dancing... the birth of the Baby Boomer Belly Dancer video podcast
58:17 A great idea for YouTube -- do you think Karen should do it?
1:03:42 Being ahead of our time and the amazing tech at the UTSA Buena Vista Theater for GBDAC
Kathy thinks Karen should have a Patreon channel. What do you think?
In the meantime, on Amazon you can get a copy of Karen's coloring book "Kolor Your Perspective" illustrated by Sarah Jouett Martinez.
You can also get Kathy's why-to book "Automation Works" on Amazon.
You can also contact Gylon at VOD|POD Media [email protected]
Baby Boomer Belly Dancer
From the mind of Karen Barbee Adkisson, with production assistance from Gyon Jackson and Kathy Swanson, we give you the new video podcast: BABY BOOMER BELLY DANCER.
From a lifetime of performing to recorded music to pioneering Project Band, a live music performing experience, Karen discusses the impact belly dance has had on her life over the past 45 plus years.
The stories and experiences that Karen will share are raw, vulnerable, honest and unfiltered ... are you ready?
Join us as Karen's inquisitive mind and unique perspective on a wide array of topics inspire, educate, and even entertain your sensibilities... because everything comes back to belly dance.
Episodes released every Saturday.
A VOD|POD MEDIA PRODUCTION
Meet the Hosts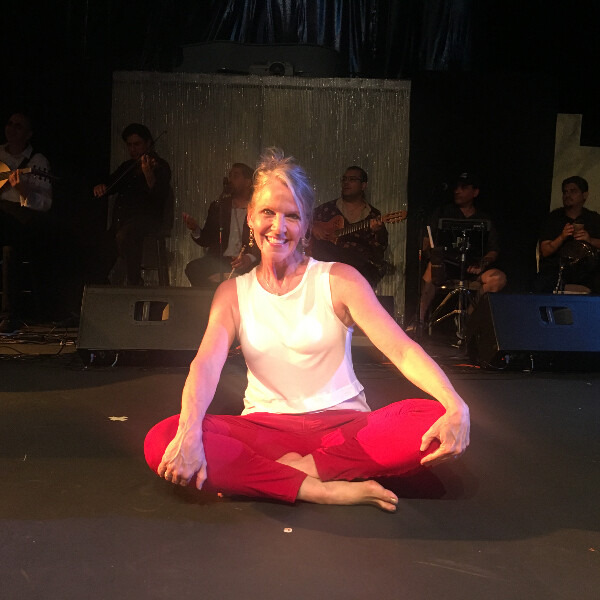 With over 40 years in her chosen craft of belly dancing, Karavan Studio owner and professional belly dancer, Karen Barbee Adkisson, has been teaching students the art of belly dance techniques for more than 30 years and is dedicated to keeping live music performances as part of this artful cultural dance.
Karen's expertise at the national and international level is technique and professional progression. With an analytical background, her methodical approach to belly dancing integrates movement analysis; breakdown of that movement; and then relating it in a logical fashion to her students.
Karavan Studio in San Antonio, Texas has been home to belly dance training for all ages and fitness levels since 1988. From beginners to the competitive performer, women of all ages learn the art of belly dancing in a structured, culturally respectful environment.
To accommodate busy lifestyles, you can learn how to belly dance using Karen's proven, structured approach whenever and wherever you want online as well as in live private and group settings.
Check out more about Karen Barbee and Karavan Studio:
Baby Boomer Belly Dancer vodcast
Karavan Studio with online and live belly dance options
Your free trial of Karavan Online
Get Karen's Top 20 Philosophies eBook
Find out about Karen's Karavan Online Masterclass