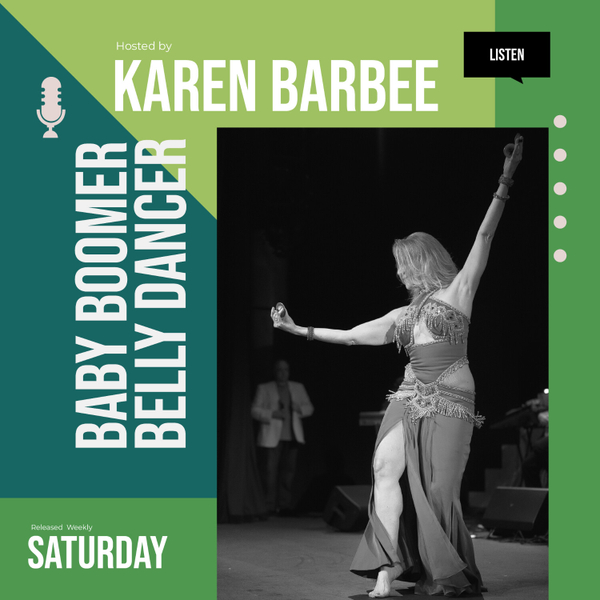 Close friends and a common love for belly dance.
Debbie Smith and Karen Barbee discuss culture, dance, and the transformative effects of falling in love with both the art and science of belly dance.
We are so pleased Debbie came in from Arkansas to San Antonio for this "performahearsal weekend" with her fellow Project Band members and our musicians.
During this episode of the Baby Boomer Belly Dancer, we talk about:
00:00 This could take a while... how long Debbie has been studying belly dance
02:30 When Debbie and Karen met at Mirage
04:02 Hearing the music and following the breadcrumbs to experience the culture
09:48 Meeting her first musician in Austin and developing cultural habits
13:34 Realizing that the main thing she loved about dancing was the music
16:27 The energy of the whole band, how people react to it, and feeling it
19:47 When Judy invited Debbie to come to Karen's classes in San Antonio
20:49 How Debbie decided to get her degree in Middle Eastern Studies
24:35 Meeting Georges Lammam for the first time
27:02 When Karen and Debbie took classes together at UT Austin
29:05 Moving to San Francisco and meeting Amina who produced live music events
30:56 Performing in local showcases and going to workshops
33:12 Sincerity and dancing -- freely following and going deep into what you love
35:30 Learning how to speak Arabic and Persian at UC Berkeley extension classes
37:34 Starting to go to Egypt because of VHS tapes
43:32 Becoming an Arts Administrator for a non-profit dance studio
46:03 Joining a Palestinian Debke troupe... from MIT
47:50 Producing her first annual Arab Cultural Festival to elevate Arab artists
49:53 Working at the Dance Mission Theater and the Arab Cultural Center
52:04 Panel of musicians at the Arab American National Museum in Detroit
54:04 Decision to move to Egypt and advocating artists and musicians
55:22 Being taken seriously and not having dance and professional life intersect
57:07 Finding the perfect job in Egypt and how her Arabic got even better
1:04:48 Debbie is not a former dancer... since Project Band is infinitely fungible for any level
Debbie's thesis was about the aesthetic values of Arabic music, including improvisation and the sacred repetition of shapes, and how oriental dance movements were perfectly suited to express the subtleties of the music. You can see why Karen and Debbie get along so well!
Baby Boomer Belly Dancer
From the mind of Karen Barbee Adkisson, with production assistance from Gyon Jackson and Kathy Swanson, we give you the new video podcast: BABY BOOMER BELLY DANCER.
From a lifetime of performing to recorded music to pioneering Project Band, a live music performing experience, Karen discusses the impact belly dance has had on her life over the past 45 plus years.
The stories and experiences that Karen will share are raw, vulnerable, honest and unfiltered ... are you ready?
Join us as Karen's inquisitive mind and unique perspective on a wide array of topics inspire, educate, and even entertain your sensibilities... because everything comes back to belly dance.
Episodes released every Saturday.
A VOD|POD MEDIA PRODUCTION
Meet the Hosts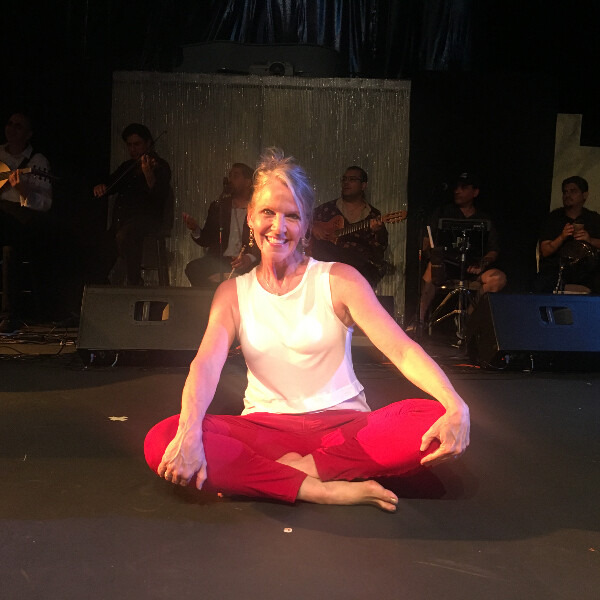 With over 40 years in her chosen craft of belly dancing, Karavan Studio owner and professional belly dancer, Karen Barbee Adkisson, has been teaching students the art of belly dance techniques for more than 30 years and is dedicated to keeping live music performances as part of this artful cultural dance.
Karen's expertise at the national and international level is technique and professional progression. With an analytical background, her methodical approach to belly dancing integrates movement analysis; breakdown of that movement; and then relating it in a logical fashion to her students.
Karavan Studio in San Antonio, Texas has been home to belly dance training for all ages and fitness levels since 1988. From beginners to the competitive performer, women of all ages learn the art of belly dancing in a structured, culturally respectful environment.
To accommodate busy lifestyles, you can learn how to belly dance using Karen's proven, structured approach whenever and wherever you want online as well as in live private and group settings.
Check out more about Karen Barbee and Karavan Studio:
Baby Boomer Belly Dancer vodcast
Karavan Studio with online and live belly dance options
Your free trial of Karavan Online
Get Karen's Top 20 Philosophies eBook
Find out about Karen's Karavan Online Masterclass