How did we get Michael Ibrahim and the National Arab Orchestra (NAO) into Texas?
Michael recently joined us from Detroit along with Karen's cousin, Julie Scott, Former Executive Director of The Youth Orchestra of San Antonio, to talk about this incredible story.
Rest assured, we are looking at even bigger ways to instruct dancers on how to work with live music and giving them the opportunity to do it. 
During this episode of the Baby Boomer Belly Dancer, we talk about:
00:00 The incredible story begins with Project Band and adding instruments
02:35 Finding a nay player on YouTube -- Michael Ibrahim, NAO Founder and Conductor
04:48 Connecting through Naser Musa and flying dancers to Minneapolis to see Michael
05:44 Going to Detroit to see the NAO Takht Ensemble
06:10 Tying in to San Antonio's Dream Week with the Youth Orchestra of San Antonio
10:24 Planning the concert at Incarnate Word and pulling in the Lebanese community
11:46 Creating a sold out concert and an excitement for more
13:40 Live Arab music -- Texas singers and musicians are coming out of the woodwork
14:54 In less than a year, having the full orchestra at Trinity University
15:11 Attracting support from Houston and playing there to another sold out crowd
18:21 Using concerts as a catalyst to bring communities together
19:45 Why Michael founded the National Arab Orchestra -- a purpose of culture
23:16 The NAO's Building Bridges through Music program and "starting with ourselves"
24:50 The pandemic afforded the NAO the opportunity to build a virtual community
26:06 How excited Karen was when she joined the NAO Board
27:55 Collaboration, education, and kids learning the music to pass along tradition
30:00 Keeping the inspiring energy of live music at the forefront -- makes us human
32:02 Having dancers on stage with the Takht Ensemble in January of 2020
33:03 Folding dance into the music and elevating the tone of the cultural conversation
35:50 Cultural dissemination vs cultural appropriation
43:31 Belly dance is a huge window opportunity to curiosity and conversations
46:59 The arts as a window into culture and why people do what they do
47:40 Teaching dancers how to listen to the music and improvisation
55:01 The NAO Takht Ensemble and Karavan Studio's weekend showcase in October 2021
"When you want to get to know someone, you invite them over for dinner; that's how life works." - Michael Ibrahim
While we had some technical difficulties, they didn't hold us back from this great conversation with Michael and Julie.
Baby Boomer Belly Dancer
From the mind of Karen Barbee Adkisson, with production assistance from Gyon Jackson and Kathy Swanson, we give you the new video podcast: BABY BOOMER BELLY DANCER.
From a lifetime of performing to recorded music to pioneering Project Band, a live music performing experience, Karen discusses the impact belly dance has had on her life over the past 45 plus years.
The stories and experiences that Karen will share are raw, vulnerable, honest and unfiltered ... are you ready?
Join us as Karen's inquisitive mind and unique perspective on a wide array of topics inspire, educate, and even entertain your sensibilities... because everything comes back to belly dance.
Episodes released every Saturday.
A VOD|POD MEDIA PRODUCTION
Meet the Hosts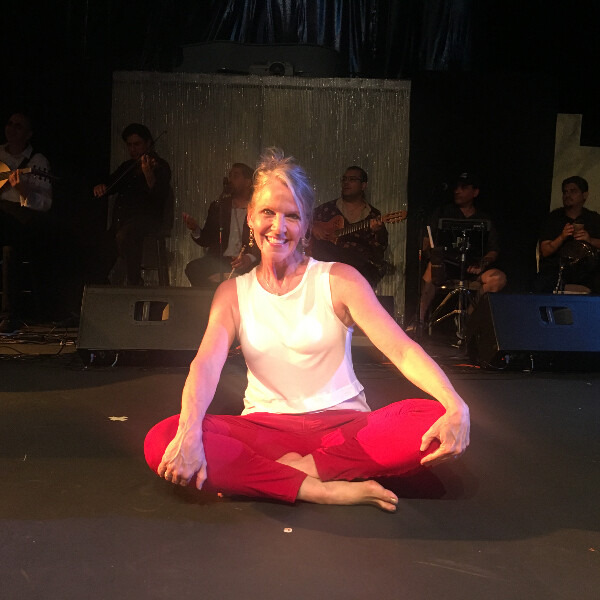 With over 40 years in her chosen craft of belly dancing, Karavan Studio owner and professional belly dancer, Karen Barbee Adkisson, has been teaching students the art of belly dance techniques for more than 30 years and is dedicated to keeping live music performances as part of this artful cultural dance.
Karen's expertise at the national and international level is technique and professional progression. With an analytical background, her methodical approach to belly dancing integrates movement analysis; breakdown of that movement; and then relating it in a logical fashion to her students.
Karavan Studio in San Antonio, Texas has been home to belly dance training for all ages and fitness levels since 1988. From beginners to the competitive performer, women of all ages learn the art of belly dancing in a structured, culturally respectful environment.
To accommodate busy lifestyles, you can learn how to belly dance using Karen's proven, structured approach whenever and wherever you want online as well as in live private and group settings.
Check out more about Karen Barbee and Karavan Studio:
Baby Boomer Belly Dancer vodcast
Karavan Studio with online and live belly dance options
Your free trial of Karavan Online
Get Karen's Top 20 Philosophies eBook
Find out about Karen's Karavan Online Masterclass