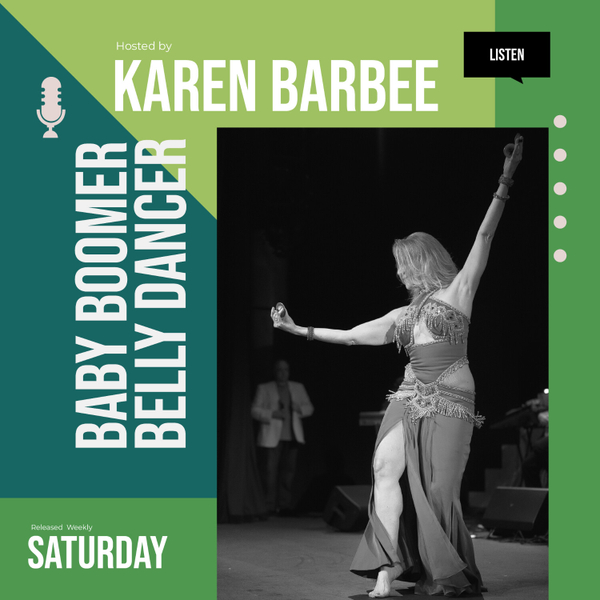 Virtuoso violinist, Georges Lammam from San Francisco, first met Karen in the late 80's.
Coming to San Antonio for a "performahearsal weekend", both Georges and Project Band member Debbie Smith from Arkansas joined us as we talk about knowing each other for all these years.
We also explored how belly dancers helped bring Middle Eastern music to the western ear.
During this episode of the Baby Boomer Belly Dancer, we talk about:
00:00 What is a "performahearsal weekend"?
01:19 Georges' journey before meeting Karen in Houston
08:37 We met at Cleopatra's ... and 11 years later...
10:08 Oh, and the first International Conference on Middle Eastern Dance in 1997
12:44 And we haven't lost Georges since
13:40 Live music and belly dance improvisation re-emergance in 2012
14:17 Meeting cool musicians through Georges
17:36 Working with dancers - workshops and the resonating improv experience
18:30 Appreciating Middle Eastern music and touching the heart
22:34 Hitting the wall with recorded music and expanding with live music
23:01 Young musicians interested in this music... especially through the pandemic
24:25 Performing in the room and the exchange of energy vs. plexiglass
25:43 Looking for tiny nuances of the dancer on Zoom
26:30 Being hungry to perform to live music in San Francisco - hidden gems
30:45 Highlights of touring in the U.S.
32:38 Loving the music enough to enjoy even a little Latin dance club
33:44 Playing for Syrian refugees on an island in Greece
35:11 Original compositions -- "Dancing Bear" will be on stage in October
37:20 And we listen to Georges improvise a quick violin piece
Once again, Georges will be amongst the incredible musicians performing at Karavan's 25th annual "Give Belly Dance A Chance" weekend... the last of its kind.
Baby Boomer Belly Dancer
From the mind of Karen Barbee Adkisson, with production assistance from Gyon Jackson and Kathy Swanson, we give you the new video podcast: BABY BOOMER BELLY DANCER.
From a lifetime of performing to recorded music to pioneering Project Band, a live music performing experience, Karen discusses the impact belly dance has had on her life over the past 45 plus years.
The stories and experiences that Karen will share are raw, vulnerable, honest and unfiltered ... are you ready?
Join us as Karen's inquisitive mind and unique perspective on a wide array of topics inspire, educate, and even entertain your sensibilities... because everything comes back to belly dance.
Episodes released every Saturday.
A VOD|POD MEDIA PRODUCTION
Meet the Hosts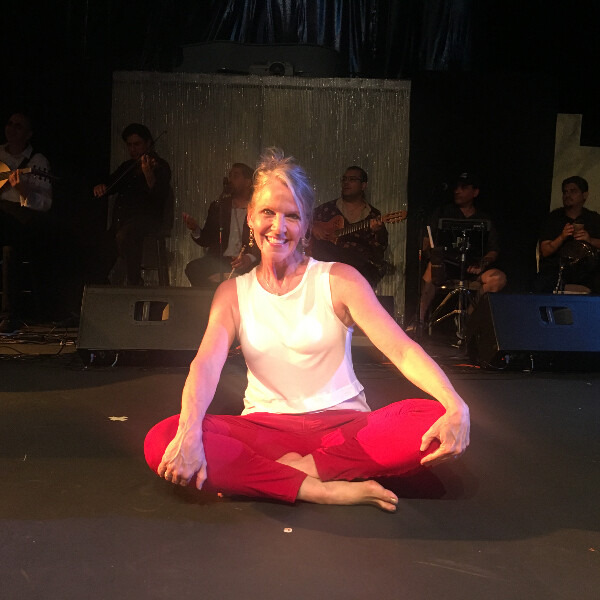 With over 40 years in her chosen craft of belly dancing, Karavan Studio owner and professional belly dancer, Karen Barbee Adkisson, has been teaching students the art of belly dance techniques for more than 30 years and is dedicated to keeping live music performances as part of this artful cultural dance.
Karen's expertise at the national and international level is technique and professional progression. With an analytical background, her methodical approach to belly dancing integrates movement analysis; breakdown of that movement; and then relating it in a logical fashion to her students.
Karavan Studio in San Antonio, Texas has been home to belly dance training for all ages and fitness levels since 1988. From beginners to the competitive performer, women of all ages learn the art of belly dancing in a structured, culturally respectful environment.
To accommodate busy lifestyles, you can learn how to belly dance using Karen's proven, structured approach whenever and wherever you want online as well as in live private and group settings.
Check out more about Karen Barbee and Karavan Studio:
Baby Boomer Belly Dancer vodcast
Karavan Studio with online and live belly dance options
Your free trial of Karavan Online
Get Karen's Top 20 Philosophies eBook
Find out about Karen's Karavan Online Masterclass