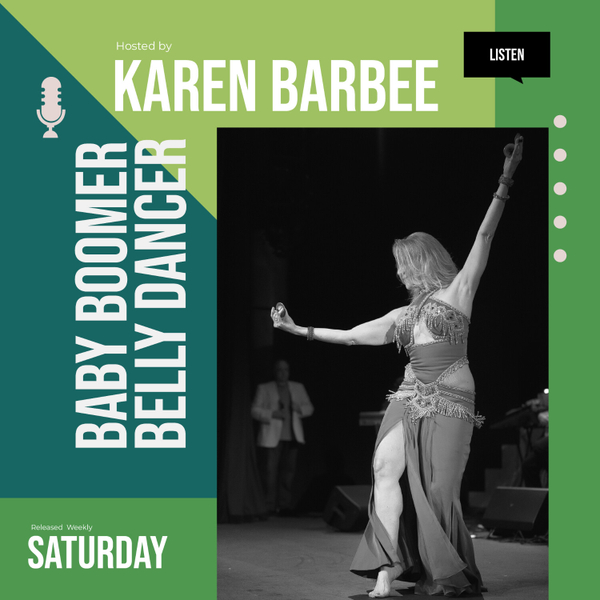 Joining the conversation is Project Band student Victoria Cruz who has a Master's degree in Dance Movement Therapy.
We talked about introducing new behaviors and removing habitual behaviors using movement, especially in belly dance improvisation.
During this episode of the Baby Boomer Belly Dancer, we talk about:
00:00 Our guest, Victoria Kinsey Cruz
02:15 Before it was Project Band...
03:45 What exactly is Dance Movement Therapy?
05:52 Movement spectrums and how we show up in movement patterns
10:04 Use of movement as a therapy tool
11:30 Self-regulation and music as an organizing factor
15:17 Gaining access to better relationships and cognitive function
17:47 Willingness to try new things when you want accolades from the audience
20:05 Seeing courage, taking risks, and giving yourself space vs control
27:02 Mindset about the audience
29:04 Where each person is at and how to encourage small shifts
33:35 Navigating life through mirroring belly dance movements
40:49 Belly dancing with other Project Banders
47:00  The deep work and how small changes are profound and long-lasting
53:16  Another COVID silver lining
Bottom Line: Project Band is deep self-reflective work... and much cheaper than therapy!
Baby Boomer Belly Dancer
From the mind of Karen Barbee Adkisson, with production assistance from Gyon Jackson and Kathy Swanson, we give you the new video podcast: BABY BOOMER BELLY DANCER.
From a lifetime of performing to recorded music to pioneering Project Band, a live music performing experience, Karen discusses the impact belly dance has had on her life over the past 45 plus years.
The stories and experiences that Karen will share are raw, vulnerable, honest and unfiltered ... are you ready?
Join us as Karen's inquisitive mind and unique perspective on a wide array of topics inspire, educate, and even entertain your sensibilities... because everything comes back to belly dance.
Episodes released every Saturday.
A VOD|POD MEDIA PRODUCTION
Meet the Hosts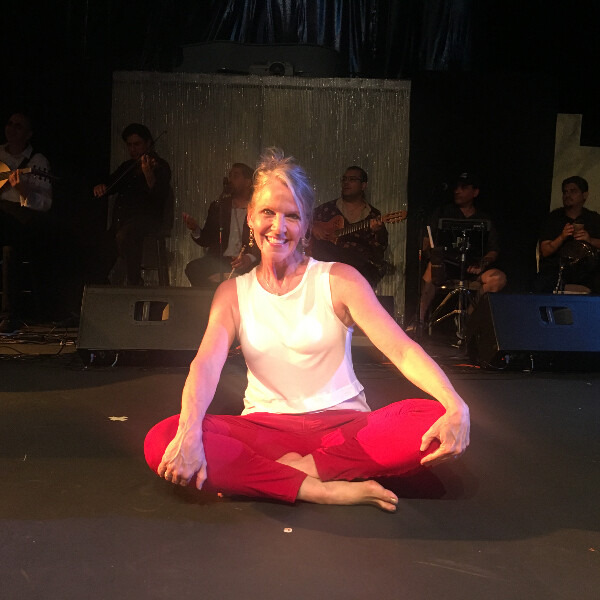 With over 40 years in her chosen craft of belly dancing, Karavan Studio owner and professional belly dancer, Karen Barbee Adkisson, has been teaching students the art of belly dance techniques for more than 30 years and is dedicated to keeping live music performances as part of this artful cultural dance.
Karen's expertise at the national and international level is technique and professional progression. With an analytical background, her methodical approach to belly dancing integrates movement analysis; breakdown of that movement; and then relating it in a logical fashion to her students.
Karavan Studio in San Antonio, Texas has been home to belly dance training for all ages and fitness levels since 1988. From beginners to the competitive performer, women of all ages learn the art of belly dancing in a structured, culturally respectful environment.
To accommodate busy lifestyles, you can learn how to belly dance using Karen's proven, structured approach whenever and wherever you want online as well as in live private and group settings.
Check out more about Karen Barbee and Karavan Studio:
Baby Boomer Belly Dancer vodcast
Karavan Studio with online and live belly dance options
Your free trial of Karavan Online
Get Karen's Top 20 Philosophies eBook
Find out about Karen's Karavan Online Masterclass