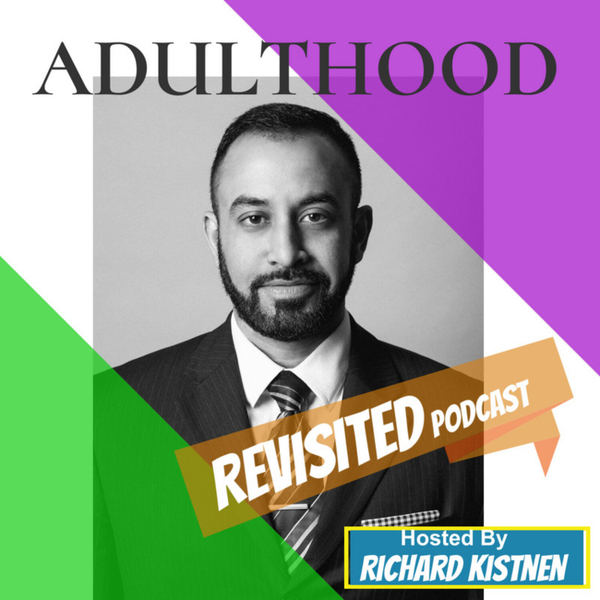 Adulthood: Revisited
Episode 98: On the Pursuit of Happiness with Sean McNair
S1E98
55:59
January 29th 2021
Hey, hey, A:R-inos!
What's the good word?
I hope that you're doing super well on your side of the screen.
I hope you've blocked off some time to take in this episode, because it's a fun one!
I'm honored to have one of my best friends, and someone I admire on the show, Sean McNair.
(Fun fact: Sean and I have known each other since the 1st grade!)
Sean is a Cytotechnologist, and a Cytology Program Director and Educator here in the New York City area.
He also has a few passion activities, like photography.
I wanted to have a convo with Sean on the podcast because, being one of my best friends for such a long time, we are able to talk about anything and everything - sometimes disagreeing with each other, but always within the frame of understanding, love and respect.
Sean opens up about his path to his current career in both the academic and clinical worlds of medicine.
He shares some of the challenges that he faced in his pursuit of "success" - challenges of pursuing dreams and desired created by those closest to him, the chase of titles and money, and 'making it."
Sean dives into the difficulties of pursuing a professional life coming from an underprivileged household, and having to figure it all out as he moved along.
He talks openly about experiencing burnout - from trying to meet and surpass the expectations placed on him from those in his life.
Sean reveals the surprise skill set that has helped him thrive as a professional - a skill set he thought would have the least value as he pursued his career.
Sean shares with us his thoughts on the very real systemic challenges that people of color face - systemic forces that exist sight unseen, and as a result of not knowing what you don't know.
Finally, Sean leaves us with some powerful parting words about making the world a better place.
If you're looking to be inspired, my man Sean McNair will do just that for you.
Say hello to everyone. This is the Adulthod:Revisited Podcast.
Connect with Sean
Adulthood: Revisited
I dunno about y'all, but in the last few years I've been trying to figure who I am.
I've asked myself who am I as a person, as a man, as a partner in relationship, who am I in business.
I wonder if who I am is really who I want to be
If not, when did it change, and what can I do to tap into who I really want to be.
If you've asked yourself questions like these, then I invite you to join me on this journey, Adulthood: Revisited.