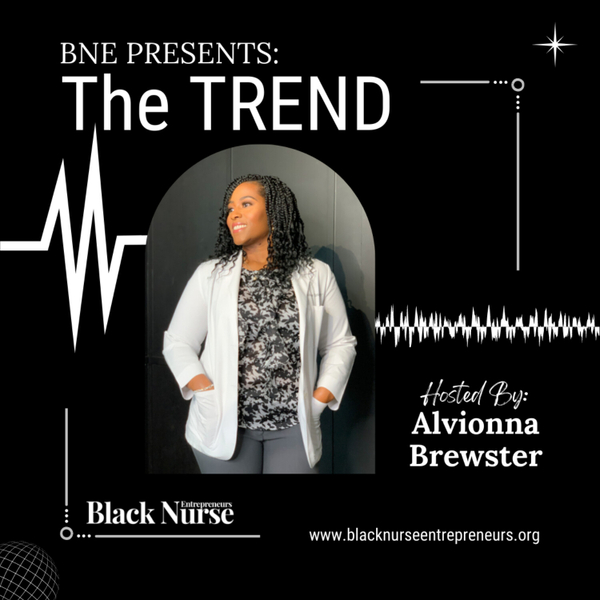 BNE presents: The TREND
Ep. 21: Empowering nurses to set their businesses up right w/ Donna Rosby and Danielle Bryant
S1E21
1:24:06
January 7th 2021
D & D Solutions is a combination of two nurses who combined their expertise to serve other nurses during the pandemic. Together they show nurses how to legally reduce their tax liability through retirement & investment strategies, through business allocations, through business set up & foundation and much more.
Danielle Bryant (AKA the Multiple Streams Queen) is a healthcare professional with over 15 years of experience with 9 of those years being in trauma and emergency medicine. She took her passion for helping others and merged it with her entrepreneurial passions helping individuals in the financial services industry (such as: taxes, bookkeeping, credit education and repair) and business development. And she recently launched a transportation company with her spouse this year and with plans to be fleet owners very soon. She has been coined the Multiple streams Queen by friends because of her desire to create wealth and build a legacy through multiple revenue streams. She currently and actively invests in the stock market) and real estate. She wants to inspire other nurses to dream big and create bigger realities with knowledge, planning and action!
Donna Rosby (AKA Mrs. Dollars) is the mother of 2 adult girls and has one granddaughter who is the main character for her financial literacy series for children. She is a registered nurse, financial educator, author, serial entrepreneur, speaker, investor, and business owner. Currently, she's authored more than 6 books with one being a series on financial literacy for children and most recently an anthology titled "A Nurse With A Niche "Financial Health". Some of her serial entrepreneur endeavors include multiple investment clubs, including President of Funding The Block, the first African American Real Estate Investment club; a successful tax and insurance business, stock market educator, AKA "Mrs. Dollar", and recently the owner of a group home for women.
Danielle's info:
Www.daniellebryantconsulting.com
IG: @multiplestreamsqueen
Donna's info:
Donnarosby.com, IG: @Donnarosby, FB: @DonnaRosbyRN
https://www.shopmikash.com/product-page/mrs-dollar-book-bundle
https://www.drosbypublishing.com/products/a-nurse-with-a-niche-financial-health-workbook-bundle
For more information about our organization and exclusive membership, please visit our website: https://blacknurseentrepreneurs.org.
BNE presents: The TREND
About Black Nurse Entrepreneurs.....
In 2015, the vision was born to create a very unique community that would connect black nurses in order to mentor, uplift & encourage one another.  It started with a simple social media platform where nurse entrepreneurs shared their stories of how they got started. Black nurses who were interested in entrepreneurship felt comfortable reaching out & obtaining resources that they may not have gotten elsewhere. The popularity and interest grew quickly as more and more black nurses became aware of what could be done with their degrees and medical expertise. The IMPACT that BNE has had within the black nursing community is tangible. As we continue to grow, we strive for professional excellence in providing the best resources for black nurse entrepreneurs worldwide. 
For more information, follow us on social media and visit our website: blacknurseentrepreneurs.org
Support Us
Donate with