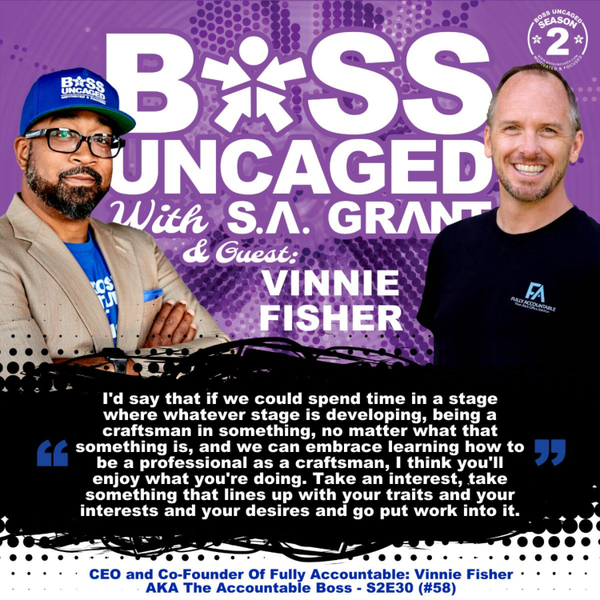 BOSS Uncaged
CEO and Co-Founder Of Fully Accountable: Vinnie Fisher AKA The Accountable Boss - S2E30 (#58)
"I'd say that if we could spend time in a stage where whatever stage is developing, being a craftsman in something, no matter what that something is, and we can embrace learning how to be a professional as a craftsman, I think you'll enjoy what you're doing. Take an interest, take something that lines up with your traits and your interests and your desires, and go put work into it."
In Season 2, Episode 30 of the Boss Uncaged Podcast, S.A. Grant sits down with CEO & Co-Founder of Fully Accountable, Vinnie Fisher.
Fully Accountable is an outsourced accounting and finance firm for small and medium-sized eCommerce and digitally based businesses. Their mission is to provide eCommerce and digital business owners with better data, so they are able to make better decisions.
Want more details on how to contact Vinnie? Check out the links below! 
Podcast https://fullyaccountable.com/podcastshows/ 
Website https://fullyaccountable.com/   
LinkedIn https://www.linkedin.com/company/fully-accountable/ 
Facebook https://www.facebook.com/vincent.fisher.984 
YouTube https://www.youtube.com/channel/UCcLRT3b5ZG9AQF-IWWyTw3Q/videos  
Products/Services https://fullyaccountable.com/bossuncaged
THANK YOU FOR LISTENING!
Just speak to your Alexa-enabled device and say, "Alexa Open Boss Uncaged."
Also available on Apple Podcast, Spotify, iHeart Radio, Amazon, Google podcast, and many other popular podcasts apps.
#SAGrant #Quote #BossUncaged #Business #podcasting #podcasts #accounting #accountingservices #accountingsoftware #accountingfirm #entrepreneurship #podcasting #podcasthost #podcastlife #fintech #fintechstartup #financial #financialadvisor #financialservices #accountants #accountant
Remember to hit subscribe so you will get instant updates. Leave us a review, we would love to get your input on the show.
Because we want to hear from you and would love your feedback, leave us a message 762.233.BOSS
Boss Uncaged
S. A. Grant, a Growth Strategy and the host of the Weekly podcast Boss Uncaged, interviews business owners to uncover the keys to their success stories. 
Releases the origin stories of Business owners as they BECOME UNCAGED TRAILBLAZERS, UNCONVENTIONAL THINKERS, UNTETHERED TRENDSETTER, and UNSTOPPABLE TYCOONS.
We always hear about the overnight success stories that take 20 years to become a reality. Our host S. A. Grant constructs narrative accounts through the voices and the stories behind Uncaged Bosses. 
In each episode, Guests come from a wide range of backgrounds and share diverse business insights. Learn how to release your primal success through the words of wisdom from inspirational entrepreneurs and industry experts. As they depict who they are, how they juggle their work-life with family life, their successful habits, business expertise, tools, and tips of their trade.
Meet the Hosts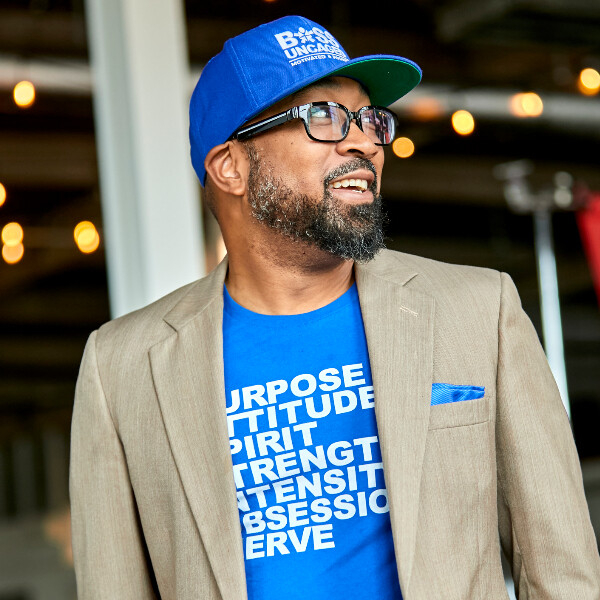 My name is S. A. Grant. I have 20 years of experience in helping businesses grow. My company's focus is helping you create strategy and tactics that consistently generate more revenue, build your business' online presence, and create systems.
We are an award-winning business growth strategy agency that gets results for our clients. We've helped them turn visitors into lifelong customers.
Support Us
Donate with