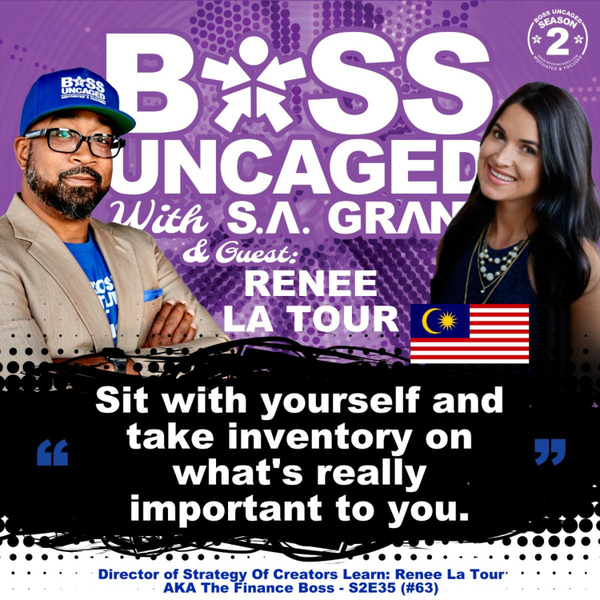 BOSS Uncaged
Director of Strategy Of Creators Learn: Renee La Tour AKA The Finance Boss - S2E35 (#63)
"Sit with yourself and take inventory on what's really important to you."
In Season 2, Episode 35 of the Boss Uncaged Podcast, S.A. Grant sits down with the Director of Strategy at Creators Learn, Renee La Tour.
Creators Learn is a learning program that provides its users the exact steps to launch their own equipment finance business & mentor its users to success.
Renee has a passion for travel and, with her partner, built a business to support this passion. Currently based out of Malaysia, Renee's entrepreneurial spirit allowed her to walk away from the typical 9-5 and create the life of which she always dreamed by running her business from anywhere in the world.
"So it's like a well, and once you get that well pumping, at least for our business model, then it just kind of flows. It's a nice steady flow of business that comes our way because we put that work in on the front end. And because of that, we have the lifestyle where we only need to work a few hours a day at most."
Don't miss a minute of this episode covering topics such as:
A mindfulness approach to the morning routine
Don't ignore the tax code and how to set up your business
Creating business systems that serve your passion
And so much more!!!
Want more details on how to contact Renee or how to join Creators Learn? Check out the links below! 
Website https://creatorslearn.com/   
LinkedIn https://www.linkedin.com/in/renee-la-tour/
Free Masterclass https://courses.creatorslearn.com/f/mc-rl-pod 
THANK YOU FOR LISTENING!
Just speak to your Alexa-enabled device and say, "Alexa Open Boss Uncaged."
Also available on Apple Podcast, Spotify, iHeart Radio, Amazon, Google podcast, and many other popular podcasts apps.
#SAGrant #Quote #BossUncaged #Business #founder #entreprenuer #equipment #heavyequipment #businesscoach #businesscoaching #onlinebusinesscoach #smallbusinesscoach #equipmentfinance #education #educationispower #educationforall #businesseducation #educationalbusiness
Remember to hit subscribe so you will get instant updates. Leave us a review, we would love to get your input on the show.
Because we want to hear from you and would love your feedback, leave us a message 762.233.BOSS
Boss Uncaged
S. A. Grant, a Growth Strategy and the host of the Weekly podcast Boss Uncaged, interviews business owners to uncover the keys to their success stories. 
Releases the origin stories of Business owners as they BECOME UNCAGED TRAILBLAZERS, UNCONVENTIONAL THINKERS, UNTETHERED TRENDSETTER, and UNSTOPPABLE TYCOONS.
We always hear about the overnight success stories that take 20 years to become a reality. Our host S. A. Grant constructs narrative accounts through the voices and the stories behind Uncaged Bosses. 
In each episode, Guests come from a wide range of backgrounds and share diverse business insights. Learn how to release your primal success through the words of wisdom from inspirational entrepreneurs and industry experts. As they depict who they are, how they juggle their work-life with family life, their successful habits, business expertise, tools, and tips of their trade.
Meet the Hosts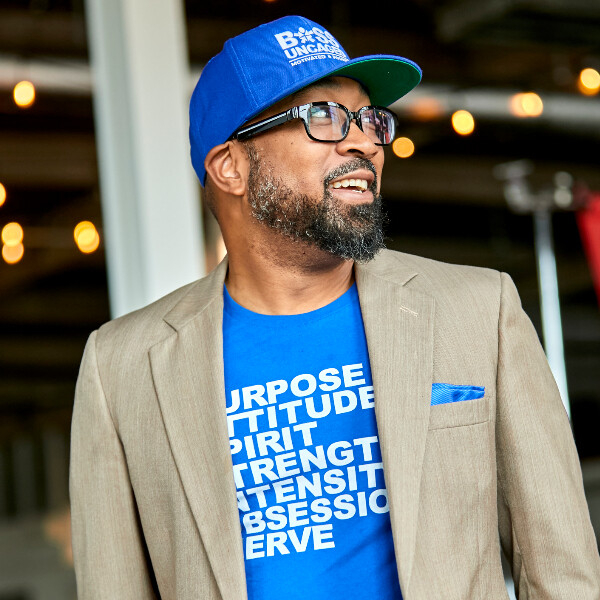 My name is S. A. Grant. I have 20 years of experience in helping businesses grow. My company's focus is helping you create strategy and tactics that consistently generate more revenue, build your business' online presence, and create systems.
We are an award-winning business growth strategy agency that gets results for our clients. We've helped them turn visitors into lifelong customers.
Support Us
Donate with