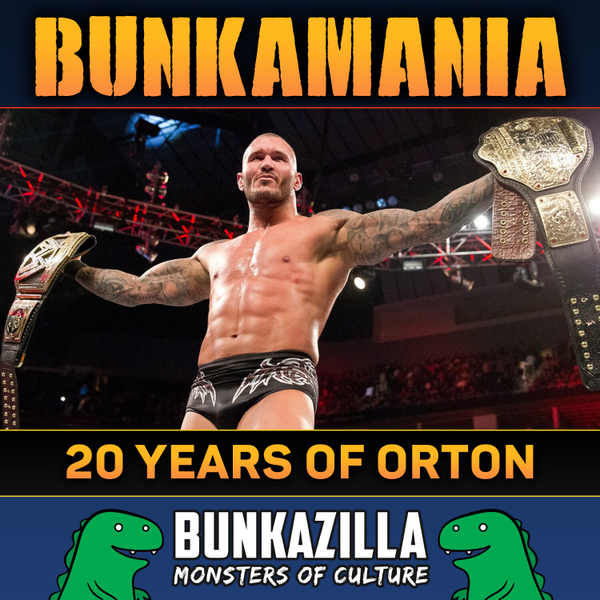 This episode of BunkaMania was recorded live on Wednesday 27th April 2022 on the Bunkazilla UK Twitch Channel
In a general wrestling catch up episode, Jeremy Graves and The Dekker Dane (aka Iain Boulton) take a look at the recent grappling activities in both AEW and WWE. The notable highlights include the announcement of the AEW & NJPW show Forbbiden Door, the ongoing feud of MJF and Wardlow, the Texas Death Match between Hangman Page and Adam Cole, the 20th anniversary of Randy Orton's debut, constant WWE name changes confusing Jeremy, and more!
Chapters
00:00 - Start
05:57 - AEW & NJPW announce Forbidden Door PPV
15:46 - Texas Deathmatching on Good Friday
17:22 - MJF still doesn't like Wardlow
21:28 - Jade Cargill is 30-0
32:55 - Previewing Cash vs Dax
35:55 - AEW's Upcoming Video Game Preview
40:23 - WWE: 20 Years of Randy Orton
54:44 - LA Knight's Faction
56:50 - Asuka and Mustafa Ali return & Edge's Faction Named
01:06:54 - Wrestlemania Backlash Card Updates
01:15:26 - Wrestling Around The World
01:28:30 - Signing Off
BunkaMania
Presented by Bunkazilla UK, Jeremy Graves and Iain Boulton cast their eyes on the wide world of professional wrestling with this fun, chilled, talkative podcast.
Episodes range from casual discussions over the latest rumbles from AEW and WWE along with a few varying tangents along the way. From trying to guess the name of WWE retired PPVs to talking about favourite wrestling moments. It's a bit of everything for the wrestling fan to enjoy.