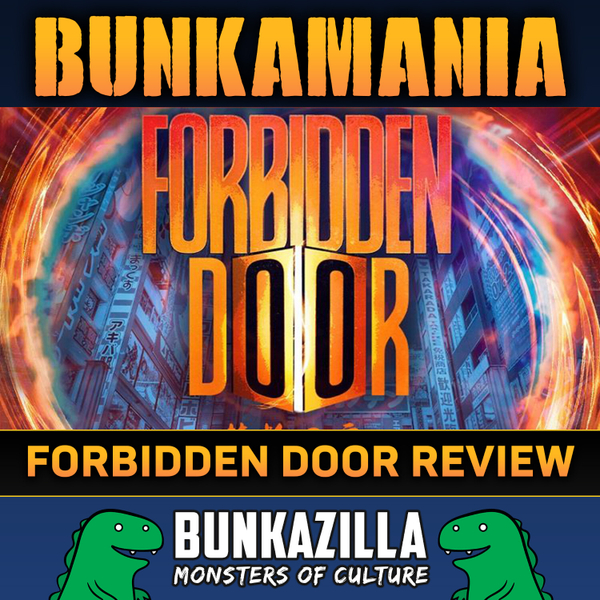 BunkaMania
AEW x NJPW Forbidden Door Review
S1E24
1:10:24
July 2nd 2022
This episode of BunkaMania was broadcast live on the Bunkazilla YouTube Channel on Wednesday 29th June 2022.
A Forbidden Door was finally kicked open bringing an AEW and NJPW PPV event. Did it deliver the dream crossover wrestling fans desired?
Jeremy Graves and The Dekker Dane discuss all the action from the Forbidden Door PPV where Jon Moxley took on Hiroshi Tanahashi for the Interim AEW championship, FTR sought to add more tag team championship belts to their collection, the first All-Atlantic Champion was crowned, and more.
Chapter Points
00:00 - Start and Introductions
03:58 - Prior NJPW Knowledge & The Buy-In
10:48 - Kingston, Yuta, and Umino vs Jericho, Guevara and Suzuki
17:56 - Winner Take All Tag Team Triple Threat
26:13 - AEW All-Atlantic Championship Fatal 4 Way
31:41 - Bullet Club vs Dudes with Attitude
37:59 - Rosa vs Storm (AEW Women's Championship)
42:44 - Ospreay vs Cassidy (IWGP United States) Championship
48:14 - Zack Sabre Jr vs Claudio Castagnoli
54:45 - IWGP World Heavyweight Fatal 4 Way
59:40 - Mox vs Tanahashi (AEW Interim World Championship)
01:03:24 - Final Thoughts / Signing Off
You can watch the video version of the show here.
Send us your AEW and WWE wrestling thoughts to [email protected]
BunkaMania
Presented by Bunkazilla UK, Jeremy Graves and Iain Boulton cast their eyes on the wide world of professional wrestling with this fun, chilled, talkative podcast.
Episodes range from casual discussions over the latest rumbles from AEW and WWE along with a few varying tangents along the way. From trying to guess the name of WWE retired PPVs to talking about favourite wrestling moments. It's a bit of everything for the wrestling fan to enjoy.