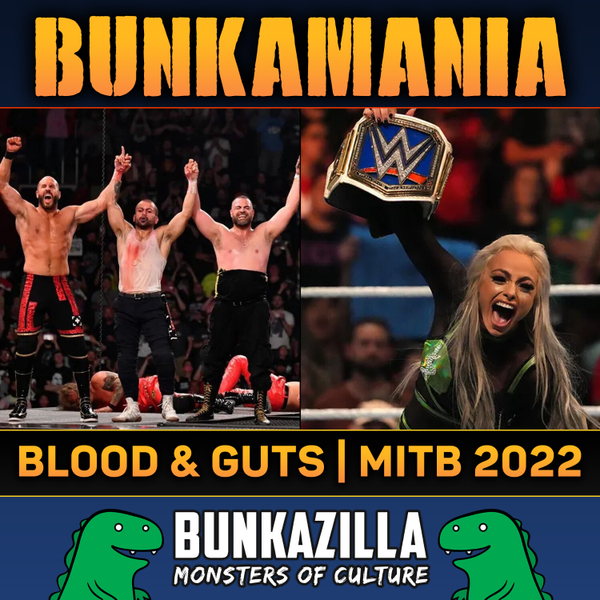 BunkaMania
Blood & Guts and Money in the Bank 2022
S1E25
1:36:16
July 8th 2022
This episode of BunkaMania was recorded on Wednesday 6th July 2022.
In a fresh audio only podcast edition, Jeremy Graves and The Dekker Dane (aka Iain Boulton) catch up on the bloody (and we mean bloody!) Blood & Guts match from AEW as well as chatting about all the action from WWE's Money in The Bank 2022.
If that's not enough, the hosts spend some time admiring Christian Cage's villainy, facepalm at credit card advertisements, theory on Theory, and find out that Jurassic World: Dominion is just a movie.
Chapter Points
00:00 - Start
03:15 - AEW Blood & Guts Match
20:45 - Christian Cage and his evil turtleneck
29:32 - Royal Rampage and Upcoming AEW / ROH
41:14 - Women's MITB Match
47:23 - Bobby Lashley Babyface Power
51:06 - Raw and Smackdown Women's Championships
1:03:03 - Usos v Street Profits
1:09:05 - Lily's Spending Spree
1:11:34 - Spooky Messages
1:15:58 - Men's MITB Match & Theory
1:27:43 - Tidbits & Sign-Off
BunkaMania
Presented by Bunkazilla UK, Jeremy Graves and Iain Boulton cast their eyes on the wide world of professional wrestling with this fun, chilled, talkative podcast.
Episodes range from casual discussions over the latest rumbles from AEW and WWE along with a few varying tangents along the way. From trying to guess the name of WWE retired PPVs to talking about favourite wrestling moments. It's a bit of everything for the wrestling fan to enjoy.