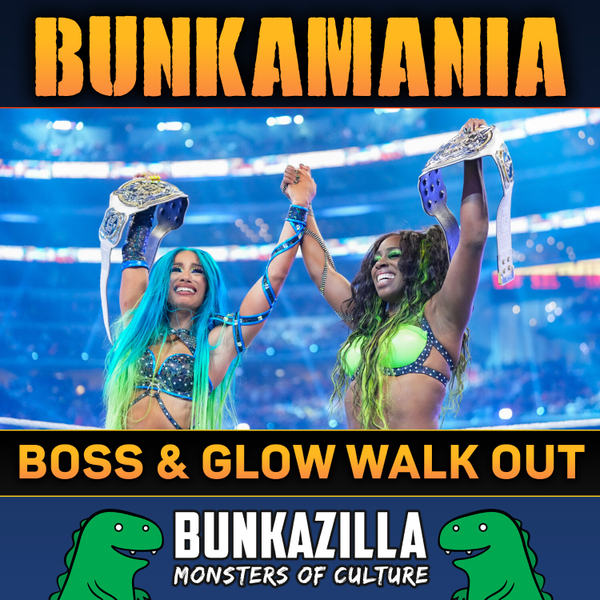 BunkaMania
Boss & Glow Walk Out
S1E20
1:32:17
May 20th 2022
Chapter Points
00:00 - Intros
04:32 - Boss & Glow Walk Out
33:27 - AEW Double or Nothing Preview
01:01:34 - WWE Round-Up (Wrestlemania Backlash, Clash at the Castle, HIAC 2022 and more!)
1:25:23 - Wrestling Around The World / Wrapup
This episode of BunkaMania was streamed live on Wednesday 18th May 2022 on the Bunkazilla UK YouTube Channel. You can watch the video version of the show here.
Jeremy Graves and The Dekker Dane (aka Iain Boulton) catch up with all things wrestling from WWE, AEW and beyond with a focus on the recent walkout of Sasha Banks and Naomi at Monday's WWE Raw taping on the 16th of May.
Also on the card is a quick preview of Double or Nothing and the latest potentially non-sensical rumblings in WWE like Wrestlemania Backlash, Clash at the Castle and making sensible booking decisions! There's even a quick trip with Wrestling Around The World.
Send your wrestling thoughts to us at [email protected]
BunkaMania
Presented by Bunkazilla UK, Jeremy Graves and Iain Boulton cast their eyes on the wide world of professional wrestling with this fun, chilled, talkative podcast.
Episodes range from casual discussions over the latest rumbles from AEW and WWE along with a few varying tangents along the way. From trying to guess the name of WWE retired PPVs to talking about favourite wrestling moments. It's a bit of everything for the wrestling fan to enjoy.