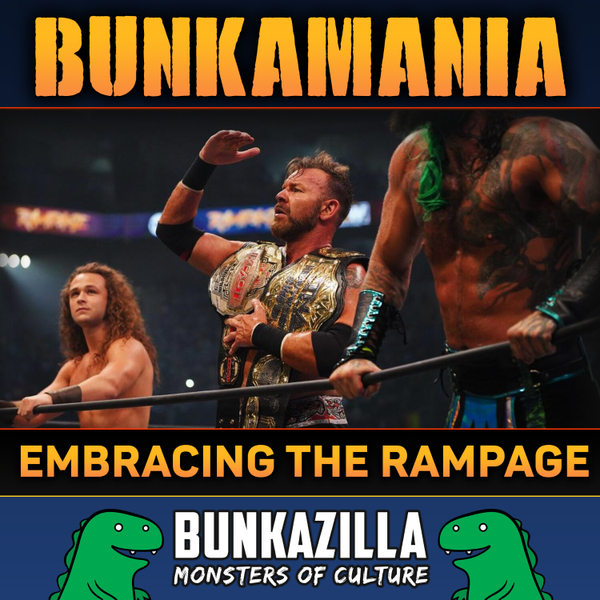 BunkaMania
Embracing The Rampage
S1E4
1:51:38
August 21st 2021
This episode was recorded on Thursday 19th August 2021.
With so much going on in the exciting world of wrestling right now, Jeremy Graves and Iain Boulton take some time to catch up on all things AEW including the first edition of their new show Rampage.
A variety of various AEW storylines, matches and more feature alongside a somewhat glum catch up of NXT. While there is a promising NXT Takeover on the horizon, the build and atmosphere has been crushed by behind the scenes madness.
Chapter Points
00:00 - Introductions
03:20 - AEW Rampage debuts
23:56 - The Super Elite vs Everyone Else (some Impact spoilers between 28:16-29:30)
32:41 - Tag team battle to All Out
39:31 - Pinnacle vs Inner Circle war on...
43:28 - Young Brock Anderson's impending demise at the House of Black
55:18 - Let's talk 2point0
1:01:16 - The All Out card and The First Dance
1:06:57 - NXT Takeover 36 Card
1:10:19 - NXT Releases & Power Struggles
1:28:26 - Contract Sagas
1:41:48 - NXT UK takes to the pitch
1:44:23 - Signing Off
BunkaMania
Presented by Bunkazilla UK, Jeremy Graves and Iain Boulton cast their eyes on the wide world of professional wrestling with this fun, chilled, talkative podcast.
Episodes range from casual discussions over the latest rumbles from AEW and WWE along with a few varying tangents along the way. From trying to guess the name of WWE retired PPVs to talking about favourite wrestling moments. It's a bit of everything for the wrestling fan to enjoy.
Support Us
Become a Patreon