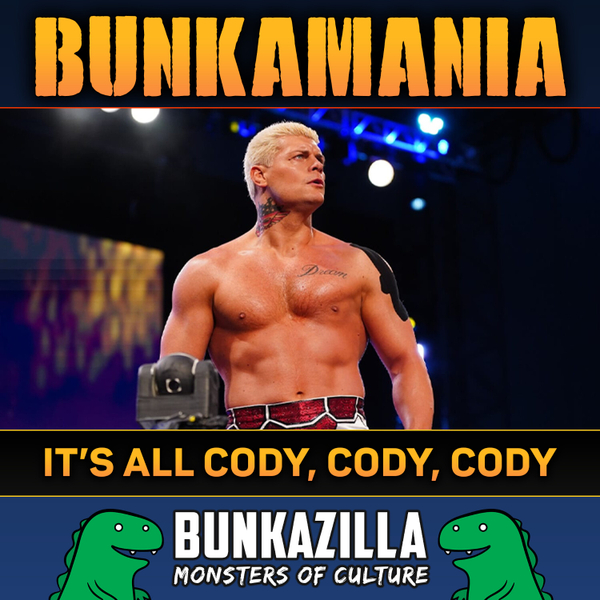 BunkaMania
It's All Cody, Cody, Cody
S1E14
1:48:08
March 3rd 2022
This episode of BunkaMania was recorded live on the Bunkazilla UK Twitch Channel on Wednesday 23rd February 2022.
After a short break, Jeremy Graves and Iain Boulton (aka The Dekker Dane) return to a whirlwind week in wrestling. Dominating the Wrestling in the World segment is the shock news that Cody Rhodes has left AEW - his destination unknown but reportedly WWE.
The road to a stupendous Wrestlemania - a description Jeremy can't come to terms with yet - continues as Iain relays his thoughts on Elimination Chamber 2022 and the current state of the Wrestlemania card.
And there's time to take a quick look at the road to AEW Revolution with the latest developments on the AEW World Championship (aka The Battle of The Adams) and MJF vs CM Punk.
Episode Chapters
00:00 - Start and Doggo Visitor!
05:00 - Wrestling Around The World
25:27 - Elimination Chamber 2022
44:36 - The Most Flummoxed Jeremy Graves
44:11 - Wrestlemania So Far
01:10:26 - The Road to AEW Revolution 2022
01:32:58 - The Undertaker is heading to WWE HOF
01:44:33 - Signing Off
BunkaMania
Presented by Bunkazilla UK, Jeremy Graves and Iain Boulton cast their eyes on the wide world of professional wrestling with this fun, chilled, talkative podcast.
Episodes range from casual discussions over the latest rumbles from AEW and WWE along with a few varying tangents along the way. From trying to guess the name of WWE retired PPVs to talking about favourite wrestling moments. It's a bit of everything for the wrestling fan to enjoy.