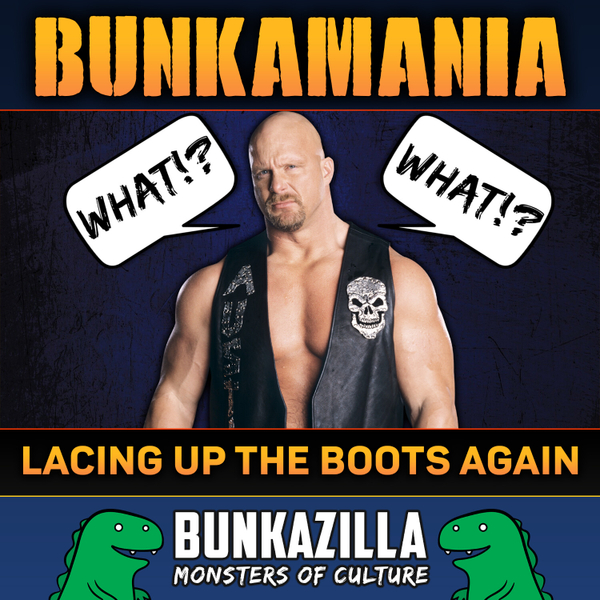 Bunkazilla returns to the world of wrestling for a reboot of BunkaMania, a wrestling-themed online radio show, now turned into a new podcast.
Lacing up their boots and leading the charge is the awesome Jeremy Graves who is joined by Iain Boulton, Bunkazilla's Station Controller, to talk all things wrestling.
As this is a fresh start, this particular episode sees Jeremy and Iain answer questions relating to their wrestling fan experiences. It's a great way to get to know your hosts a little more before the show kicks off proper with Episode 1.
Chapter Points
00:00 - Introduction
11:27 - Wrestling Beginnings
25:40 - Grating Crowd Chants
33:31 - Bad Debuts and Fans Expectations
39:45 - Should The Main Event Always Have A Title?
51:00 - Impactful Entrances
57:17 - WWE's Best Big 4 Show
01:01:25 - The Best Wrestling Show I Went To...
01:10:30 - Questionable Commentary
01:19:10 - Texas
01:20:10 - Top 3 Wrestlers (Legend, Retired & Active)
01:47:29 - Sign Off
BunkaMania
Presented by Bunkazilla UK, Jeremy Graves and Iain Boulton cast their eyes on the wide world of professional wrestling with this fun, chilled, talkative podcast.
Episodes range from casual discussions over the latest rumbles from AEW and WWE along with a few varying tangents along the way. From trying to guess the name of WWE retired PPVs to talking about favourite wrestling moments. It's a bit of everything for the wrestling fan to enjoy.
Support Us
Become a Patreon