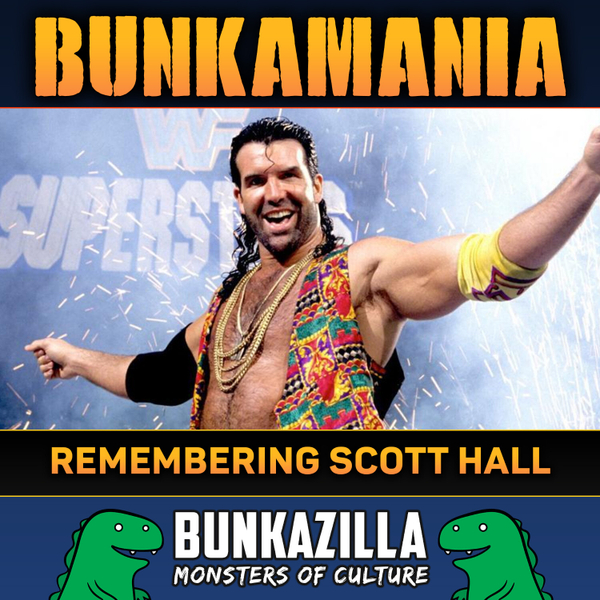 BunkaMania
Remembering Scott Hall
S1E16
1:36:04
March 18th 2022
This episode was recorded live on the Bunkazilla UK Twitch Channel on Wednesday 16th March 2022.
Jeremy Graves and Iain Boulton (aka The Dekker Dane) look back at the career of wrestler Scott Hall who passed away on Monday 14th March 2022. The WWE Hall of Famer was best known as Razor Ramon and one of the founding members of the NWO in the WCW days. Our hosts share some of their memories of his matches and look back at the impact Hall has made in the wrestling world.
Also in the episode, we take a look at the latest developments in WWE including the latest state of the Wrestlemania 38 card - complete with musical interludes - and then turn focus to the latest goings-on with AEW including the arrival of one dancing Jeff Hardy.
Episode Chapters
00:00 - Introductions
02:30 - Remembering Scott Hall
28:30 - WWE News starts with Big E's Broken Neck Injury
36:47 - Pete Dunne becomes "Butch"
42:05 - The Wrestlemania 38 Card so far...
52:03 - What is Seth doing at Mania?
57:00 - NXT Stand & Deliver Card
01:02:15 - They changed Edge's music!!!
01:05:24 - AEW News starts with Page vs Cole (again?)
01:07:03 - The Chris Jericho Appreciation Society
01:10:50 - Jeff Hardy is All Elite and he's still dancing!!!
1:13:55 - AEW Women's Championship Steel Cage Preview
1:16:27 - Wardlow's World
1:17:50 - Oh, FTR fired Tully!
1:18:13 - William Regal's Promo
1:20:15 - St. Patrick's Day Smash Preview
1:30:02 - The Control Your Narrative "Rules" / Signing Off
BunkaMania
Presented by Bunkazilla UK, Jeremy Graves and Iain Boulton cast their eyes on the wide world of professional wrestling with this fun, chilled, talkative podcast.
Episodes range from casual discussions over the latest rumbles from AEW and WWE along with a few varying tangents along the way. From trying to guess the name of WWE retired PPVs to talking about favourite wrestling moments. It's a bit of everything for the wrestling fan to enjoy.