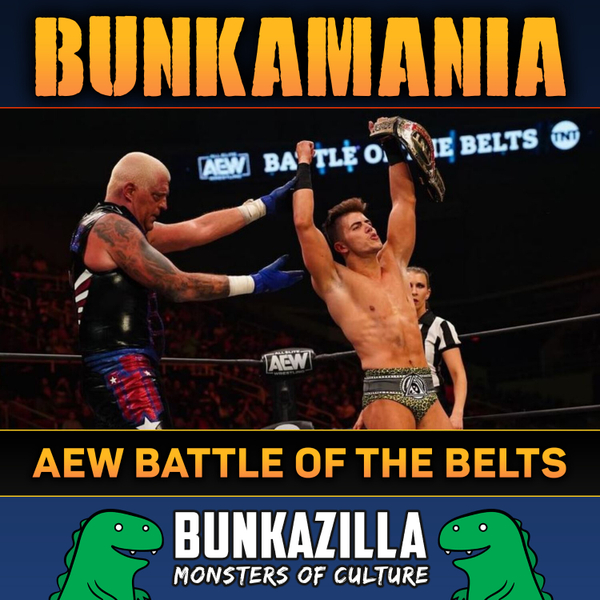 BunkaMania Wrestling
The Battle for AEW Belts (Battle of The Belts Review)
S1E11
1:45:57
January 16th 2022
This episode of BunkaMania Live was recorded on Wednesday 12th January 2022 on the Bunkazilla UK Twitch Channel.
Jeremy Graves and Iain Boulton (aka The Dekker Dane) do their first check-up of All Elite Wrestling for 2022 as they run over some of the big matches and events that have taken place since Full Gear. The battle of the AEW World Championship saw two stellar matches between Hangman Adam Page and Bryan Danielson, CM Punk and MJF are on a collision course but the heated war of words is already upon us and the first-ever TBS Champion is crowned!
Let's not forget that there's an Undisputed Reunion in the promotion as well as brand new tag champions in the form of Jurassic Express.
The main bulk of the show looks at the Battle of The Belts TV Special which saw an Interim TNT Champion crowned and both the FTW and AEW Women's World Championship being defended. There's also a dose of Wrestling Around The World where our hosts quickly run down some of the most recent news developments in wrestling including Mickie James' shock appearance for the women's Royal Rumble, MLW taking WWE to court and Corey Graves being cleared for an in-ring return.
You can watch the video version of the episode here.
Chapters
00:00 - Start
04:32 - Hangman Adam Page vs Bryan Danielson Pts 1 & 2
16:15 - CM Punk and MJF's Verbal Jousting
25:02 - The Undisputed Reunion
32:37 - The TBS Championship
41:24 - Jurassic Express are Champions
50:11 - Battle of The Belts Review
01:18:57 - Wrestling Around The World (Other News)
01:40:33 - Signing Off
BunkaMania Wrestling
Jeremy Graves and The Dekker Dane cast their eyes on the wide world of professional wrestling with this fun, chilled, talkative podcast.
Episodes range from casual discussions over the latest rumbles from AEW and WWE along with a few varying tangents along the way. From trying to guess the name of WWE retired PPVs to talking about favourite wrestling moments. It's a bit of everything for the wrestling fan to enjoy.