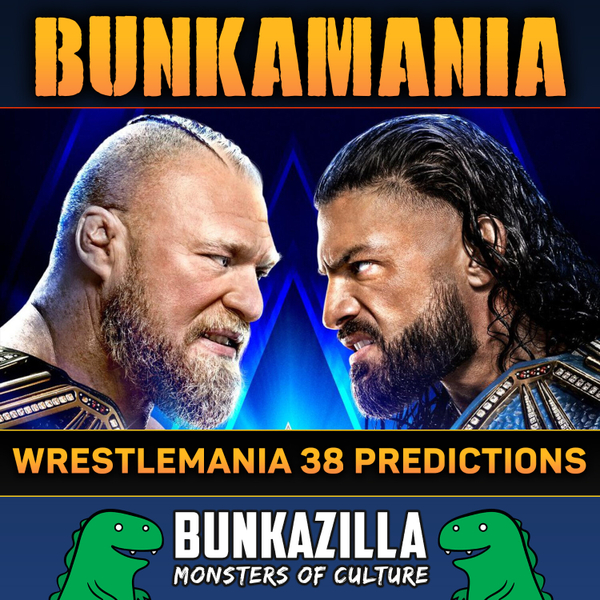 BunkaMania
Wrestlemania 38 Predictions
S1E17
1:55:56
April 1st 2022
This episode was recorded live on the 30th March 2022 over on the Bunkazilla UK Twitch Channel.
The most STUPENDOUS Wrestlemania of them all is almost here. What will the most STUPENDOUS Wrestlemania have in store for fans? Jeremy Graves and Iain Boulton (aka The Dekker Dane) run through the weekend match card and make some predictions. Some unsurprising and others that may cause the wrestling world to implode....or explode on Twitter if they ever happen.
We have a quick rundown of the pivotal developments in AEW over the last few weeks, preview the upcoming WWE Hall of Fame ceremony and also look at this year's Stand & Deliver event from NXT.
It's a STUPENDOUS preview of sorts.
Chapter Points
00:00 - STUPENDOUS Introductions
04:30 - AEW Top 5 points
28:40 - WWE Hall of Fame 2022
38:46 - NXT Stand and Deliver 2022
59:27 - Wrestlemania 38 Night 1 Predictions
01:28:34 - Wrestlemania 38 Night 2 Predictions
Share your Wrestlemania thoughts ahead of our review show recording on the 6th April 2022 by emailing us at [email protected] - we'd love to hear from our listeners.
BunkaMania
Presented by Bunkazilla UK, Jeremy Graves and Iain Boulton cast their eyes on the wide world of professional wrestling with this fun, chilled, talkative podcast.
Episodes range from casual discussions over the latest rumbles from AEW and WWE along with a few varying tangents along the way. From trying to guess the name of WWE retired PPVs to talking about favourite wrestling moments. It's a bit of everything for the wrestling fan to enjoy.