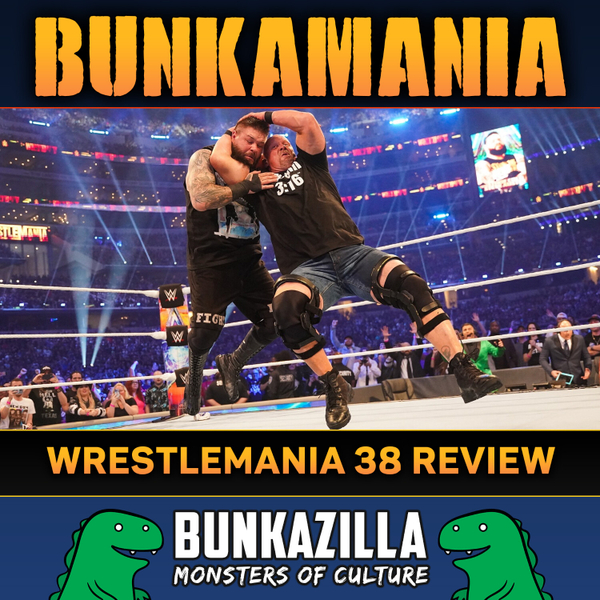 BunkaMania
Wrestlemania 38 Review
S1E18
1:46:16
April 16th 2022
This episode was BunkaMania was recorded live on April 13th 2022 on the Bunkazilla UK Twitch Channel.
Jeremy Graves and The Dekker Dane (aka Iain Boulton) get all the stupendousness out of their systems as Wrestlemania 38 has come and gone in the blink of an eye. They share their thoughts on the big highlights of the two-night event where titles were unified, legends had one more battle, celebrities defied expectations and, of course, Cody Rhodes finally made his return to WWE.
With Wrestlemania 38 now a distant memory, what feuds and stories are unfolding in WWE? Jeremy tries to come to terms with more name changes and the mystery of the new arrival called Ezekiel.
There's also some time for a quick catch up on AEW activity as well as some of the other wrestling escapades around the world like NXT, Supercard of Honor, and a WWE Premium Live Event heading to the UK.
Chapter Points
00:00 - Introductions
03:37 - Wrestlemania 38 Review
44:57 - Post Wrestlemania
01:04:24- AEW Catch Up
01:21:12 - Wrestling Around The World (NXT Stand & Deliver, Supercard of Honor, Taker's HOF, WWE heading to Cardiff)
BunkaMania
Presented by Bunkazilla UK, Jeremy Graves and Iain Boulton cast their eyes on the wide world of professional wrestling with this fun, chilled, talkative podcast.
Episodes range from casual discussions over the latest rumbles from AEW and WWE along with a few varying tangents along the way. From trying to guess the name of WWE retired PPVs to talking about favourite wrestling moments. It's a bit of everything for the wrestling fan to enjoy.