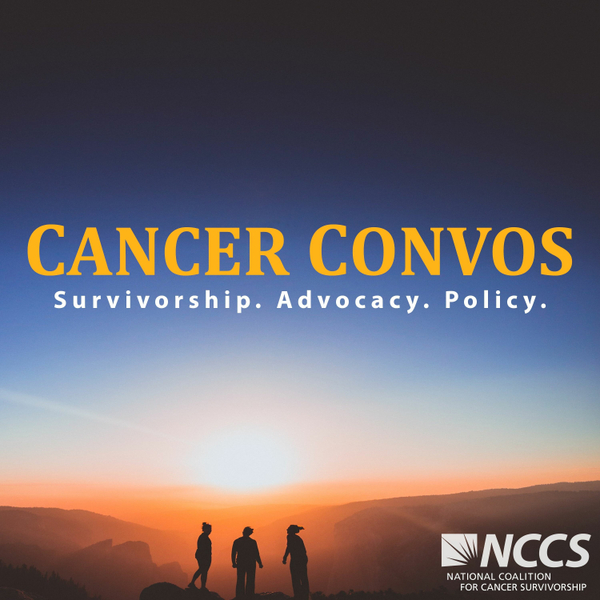 In this episode, we talk with Dr. Don Dizon, a medical oncologist who is chronicling his experience on the front lines of oncology during COVID-19 in a series for Medscape entitled COVID-19: Diary of an Oncologist. [https://www.medscape.com/index/list_13427_0] We talk with Dr. Dizon about the challenges of delivering cancer care and conducting clinical trials during a pandemic. He shares his advice for cancer patients currently in treatment, as well as for cancer survivors coping with the stress and anxiety of life after cancer. We also talk about how he engages on social media and uses TikTok to create fun educational messages. He also shares how virtual communities can provide support during challenging times.
Cancer Convos: Survivorship. Advocacy. Policy
In Cancer Convos, leaders of the National Coalition for Cancer Survivorship talk with health care experts, providers, cancer survivors, caregivers, and advocates about cancer survivorship, advocacy, and policy efforts to improve cancer care. Shelley Fuld Nasso, NPP, is the CEO of this advocacy group with a strong mission. Formerly leading public policy with the Susan G. Komen Foundation, Shelley found her calling to advocacy as a dear friend lost his battle to cancer at only 43 years old. Now, she is bringing survivors and healthcare providers together with a new podcast. Lindsey Houff MPP is the Senior Policy Manager for NCCS. A dedicated advocate and graduate of Virginia Tech, Lindsey lost her father at a young age to Melanoma. The NCCS team is working to build a brighter future for those who have been affected by cancer. As NCCS aims to improve public policies, the advocates and survivors behind the story are inspiring and educational. Education, inspiration and connection, the keys to bringing survivors and healthcare together with a common goal; surviving cancer.