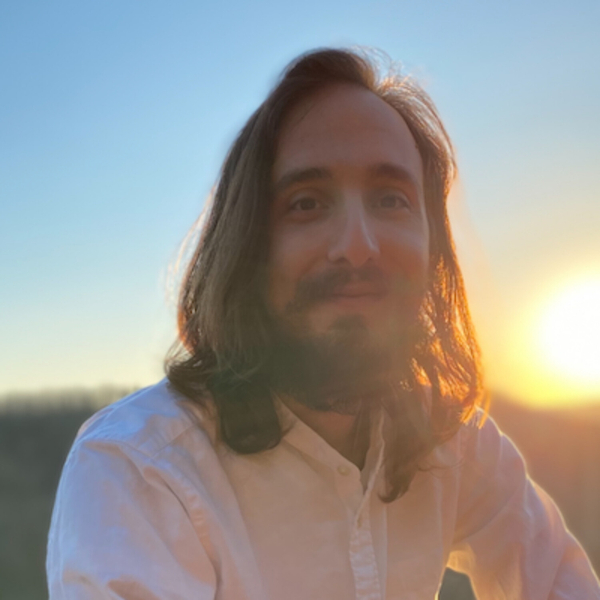 ((Photo featured: Trent Navran))
Trent Navran is a musician, meditator and product manager based in Austin, Texas. He started learning classical guitar at age 7 and flute at age 10. While attending Rice University to study neuroscience, Trent started his meditation journey by taking Inner Engineering, a holistic wellbeing program. Deeply touched by the wisdom and practice imparted by Sadhguru, Trent began volunteering with Isha Foundation, offering his musical abilities whenever possible.
After college, Trent joined AI startup CognitiveScale, where he led multiple projects that embedded AI into retail, financial, healthcare, and technology companies. He then joined Wellsmith, a healthcare technology startup dedicated to modernizing the management of chronic diseases such as type 2 diabetes. In 2019, Trent spent an extended period at the Isha Yoga Center in southern India. At present, he is a long-term volunteer at the Isha Institute of Inner-sciences in Tennessee.
Xandy Barry is an award-winning multiplatinum songwriter and producer based in Los Angeles. He has produced, mixed, and written songs with a wide range of artists including Miley Cyrus, Lil Wayne, Baby E, Norah Jones, Rihanna, Zella Day, Family of The Year, Bon Iver, Creeper, Slash, and many others. 
His songs and compositions have appeared on screen and in soundtracks for many feature films including the Academy Award-winning Spider-man: Into The Spider-verse, Marvel's The Avengers, Insurgent, Bloodline, and many others. Additionally, his compositions have been used in hundreds of television shows in the United States and abroad.  
He is the co-owner of WAX LTD, an independent record label with over a billion streams on Spotify. He is also co-owner of AUDIO WAX a joint venture with Universal Music, providing curated music for film and television across the globe. An ardent meditator, he volunteers for the Isha Foundation, which focuses on environmental and humanitarian projects around the world including Cauvery Calling, an agroforestry initiative that aims to plant 2.4 billion trees in the Cauvery river basin in India. A 12-year member of the Recording Academy he also supports Musicares.
Websites: https://www.umusicpub.com/us/Artists/X/Xandy-Barry.aspx
CAREER INVINCIBILITY
Join host, Christine Perakis, bestselling author, speaker, attorney, and serial entrepreneur, as she and her guests share the stories and strategies that they've used to become "invincible" no matter what life throws at them!
We are all experiencing the reverberations from the most catastrophic pandemic in the last 100 years. And, for most, this isn't the first "Category 5-level" event they've endured. We will talk with successful entrepreneurs, senior leaders, and personal wellness experts who will share stories of the challenges they have encountered and the tools they use to become invincible in their lives and businesses in any weather. Find out how you, too, can shore up your business and your life so that you can come through these "storms" to reach clear skies and calm seas and thrive! Christine gets businesses from 0 to 8-Figures in record time, drawing from her experiences starting, growing and expanding 10 businesses on her own and with partners, and helping 100s of clients on 5 continents to do the same. Contact her at https://christineperakis.com
Everything You've Ever Heard About Generating Leads For Your Business Is WRONG! | BusinessBreakthroughPro.com by Christine Perakis, Esq.