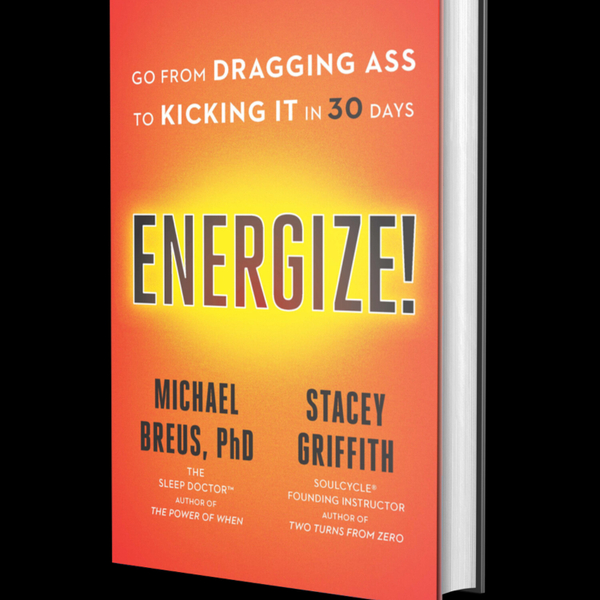 Michael J. Breus, PhD, is a clinical psychologist, a diplomate of the American Board of Sleep Medicine, and a fellow of the American Academy of Sleep Medicine. He is one of only 168 people in the world to have taken the medical specialty board without going to medical school. He is a High Performance Sleep Coach for celebrities, politicians, and Athletes from all over the world. He has been in practice for twenty-three years, has been featured on The Dr. Oz Show more than forty times, writes regularly for Psychology Today, and was named the top sleep specialist in California by Reader's Digest. Breus is the author of The Power of When, The Sleep Doctor's Diet Plan, and Beauty Sleep. His latest book coming out TODAY, as we record this show, is Energize! How to go from Dragging Ass to Kicking It in 30 Days.
He is known as The Sleep Doctor and we are excited to learn from him today "How to get Energized so we can start Kicking-Ass!"
CAREER INVINCIBILITY
Join host, Christine Perakis, bestselling author, speaker, attorney, and serial entrepreneur, as she and her guests share the stories and strategies that they've used to become "invincible" no matter what life throws at them!
We are all experiencing the reverberations from the most catastrophic pandemic in the last 100 years. And, for most, this isn't the first "Category 5-level" event they've endured. We will talk with successful entrepreneurs, senior leaders, and personal wellness experts who will share stories of the challenges they have encountered and the tools they use to become invincible in their lives and businesses in any weather. Find out how you, too, can shore up your business and your life so that you can come through these "storms" to reach clear skies and calm seas and thrive! Christine gets businesses from 0 to 8-Figures in record time, drawing from her experiences starting, growing and expanding 10 businesses on her own and with partners, and helping 100s of clients on 5 continents to do the same. Contact her at https://christineperakis.com
Everything You've Ever Heard About Generating Leads For Your Business Is WRONG! | BusinessBreakthroughPro.com by Christine Perakis, Esq.