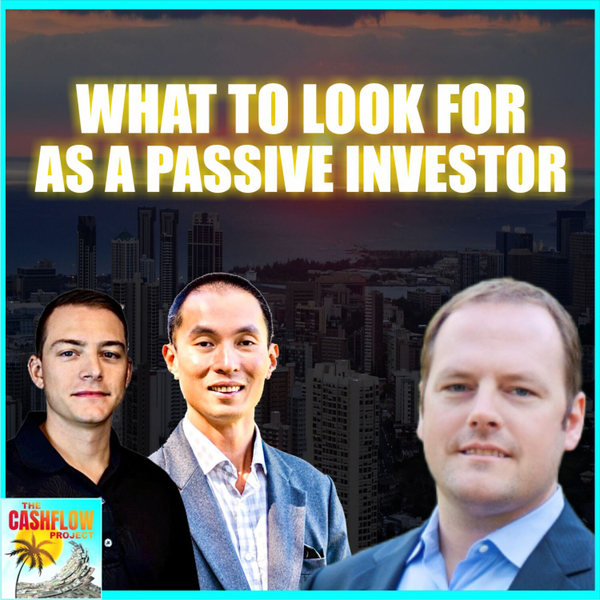 The Cashflow Project
What to look for as a passive investor with Dan Handford
E38
41:35
December 22nd 2020
Join me and my co-host, Vince Gethings, as we chat with Dan Handford about what to look for as a passive investor. Dan is a Managing Partner with
PassiveInvesting.com, founder of the Multifamily Investor Nation, co-host of Tough Decisions for Entrepreneurs, and a Founding Board Member of the Fortify Foundation! He is a very successful individual that has started multiple seven-figure businesses from scratch. Listen to the episode now and learn more from Dan!
Stay Focused with a Mentor
It can be very difficult to concentrate on what you want to do with your company and goals in life while you are running a business. When there are many matters that require your attention and time, as well as several other innovations
influencing the industry, it is easy to get distracted. And sometimes, setting clear goals for yourself is not enough to get you where you want to go. However, with the help of a coach or mentor, they'll be able to help guide you back to your mission. Especially now, with everything happening today, our level of concentration is not that focused compared to life without the pandemic. 
About Dan Handford:
Dan and his wife, Dennae, along with their 4 children (3 girls and a boy), reside and work in Columbia, SC.
Dan has an extensive successful background in starting multiple seven-figure businesses from scratch including a large group of non-surgical orthopedic medical clinics located in South Carolina. His family of companies have annual budgets in excess of $10MM.
He is the founder of the Multifamily Investor Nation where he educates a nationwide group (9,000+ members) of multifamily investors on how to properly invest in multifamily assets.
He is the co-host, along with his wife, Dennae, of the Tough Decisions for Entrepreneurs podcast which can be found on iTunes and Google Podcasts.
Outline of the episode: 
·        [00:46] The story of how he got into the multifamily real estate space.
·        [02:56] Dan is a passive investor in 25 different deals with 9 different operators.
·        [04:00] Five things that Dan looks for as a passive investor when trying to place capital.
·        [08:55] The kinds of criteria Dan looks for when getting deals as an LP.
·        [10:55] The origin story of Dan's partnership with Danny and Brandon.
·        [13:25] Advantages and disadvantages of investing in Class A multifamily properties.
·        [15:34] How they use digital marketing to grow a syndication business.
·        [19:17] The effective way they use newsletter marketing strategy.
·        [22:07] High barriers to entry markets have a lot of advantages.
·        [28:35] A quick understanding of what the capital stack means.
·        [33:04] Start asking the right questions to your potential LPs.
·        [35:46] Best Ever Apartment Syndication Book by Joe Fairless and Theo Hicks!
·        [36:31] Dan's superpower is that he enjoys marketing and finding different ways to drive revenue.
·        [36:58] One of the biggest reasons and strategies they do has greatly contributed to their success.
·        [37:39] Having mentors and coaches will help you stay focused.
The Cashflow Project
This is for busy professionals who are looking for financial freedom through passive income, with a focus on cashflow assets in Multifamily Real Estate. We will be covering a variety of topics such as buying, managing, and selling real estate assets, specifically apartments.
To learn more about us, visit tricityequity.com