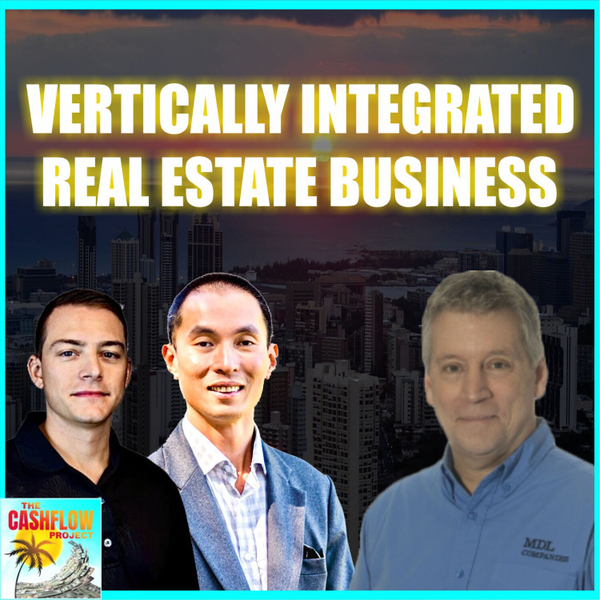 The Cashflow Project
Vertically integrated real estate business with Mike Loomis
E43
22:06
January 26th 2021
Join me and my co-host, Vince Gethings, as we chat with Mike Loomis about how he has successfully scaled and built MDL Companies. Mike is the founder and CEO of MDL Companies, a vertically integrated real estate firm with five divisions including construction, investments, property management, realty, and restoration! MDL Companies is a family-owned and operated company, and he has not only his sons working in the firm but also some of his nephews! Their strategies and how they manage MDL Companies is amazing! Learn from Mike himself who grew this company from the bottom to the top!
Working in a Family-Owned Business
Working and firing your family member is definitely harder than doing that to an employee you have no blood relations with. It can be difficult to manage if you don't have mutual respect and understanding with one another. This can even damage the whole company if not handled properly. However, when you do invest in building good professional relationships with them, there are also a lot of great advantages! Good benefits such as, you can definitely trust them more with your confidential business plans and that they won't run away with your money.
In this episode, Mike also shares his pieces of advice on how they're able to make it work so well even when he has his sons and nephews in the company!
Fresh Ideas from the Youth
Times are changing, and everything is becoming more advanced in terms of the technology that we use. It is important to always have your ears and mind open to new ideas, especially from the youth or younger generations. They can provide fresh ideas to your company about the new applications, technologies, and innovative strategies in-line with the current trends to scale faster! Don't underestimate younger people than you, they can provide great opportunities for growth for your business!
About Mike Loomis:
Mike Loomis is the founder and CEO of MDL Companies. With 33 years as a professional contractor, real estate broker, and industry innovator, Mike has grown MDL as the premier realty, construction, restoration, and property management company in the Tri-City area. Mike is currently fulfilling his dream career by empowering his employees on a daily basis and providing opportunities to those in need in the local community. Outside of work, Mike is an avid golfer and MSU fan highly focused on his faith and his family. His favorite hero is Superman because he wishes he had the superpower of flight.
Resources:
·        Website 
·        Email 
·        Phone: (989) 895 - 1590 
·        Fax: (989) 895 - 1592
Connect with Cashflow Project!
·        Website
·        LinkedIn
·        Youtube
·        Facebook
The Cashflow Project
This is for busy professionals who are looking for financial freedom through passive income, with a focus on cashflow assets in Multifamily Real Estate. We will be covering a variety of topics such as buying, managing, and selling real estate assets, specifically apartments.
To learn more about us, visit tricityequity.com