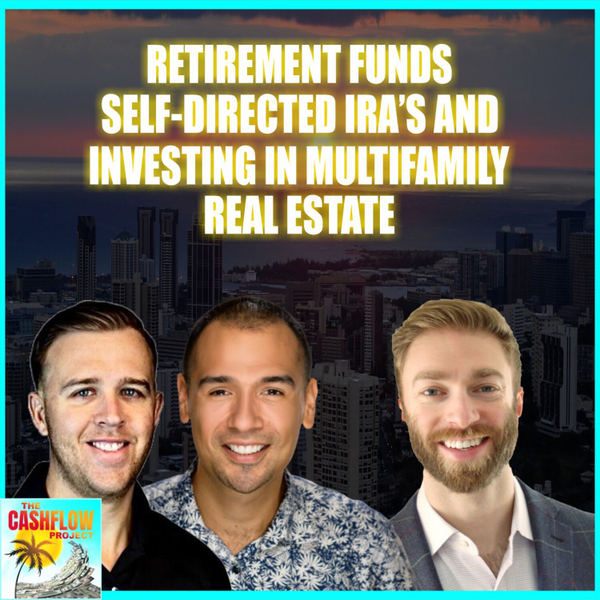 The Cashflow Project
Retirement funds, self-directed IRA's and investing in multifamily real estate with Josh Plave
E47
44:48
February 23rd 2021
Join Steve Fierros and his co-host, Matt Callihan, as they chat with Josh Plave about using a self-directed IRA in investing in multifamily real estate. Josh is the founder of Wall to Main, a full-time multifamily investor, and a retirement investing educator. He started his journey at the young age of 16 with his first Roth IRA and now has built a portfolio of over 700 units across three markets! Josh shares with us his experience investing first in multifamily properties, where you can invest your retirement accounts and what specific types of investments are good to invest in. In this episode, also learn more about how Josh used multiple IRAs to his advantage to achieve success!
The Benefits of Using Self-Directed IRAs For Real Estate
Having a Self-Directed Individual Retirement Account is a great way to save for your retirement that you can actually use to invest in real estate. There are a lot of investment and diversification benefits you can choose from. It is no wonder why self-directed IRAs are becoming more popular. In comparison with other IRAs, you will not be limited to stocks and mutual funds.
Some of the reasons why a lot of people prefer to use this when investing in real estate is because of the tax-deferred income, lower fees you need to pay, limited liability, and the control you will have over your investments. This is also more convenient because usually the process is quick when you want to get money in your account to make an investment. Self-directed IRAs also provide certain investment protections in case of bankruptcy; you will be exempted for up to $1 million of your funds! This gives you more asset protection, especially when investing in multifamily properties. With the help of self-directed IRAs, you can have multiple exit strategies. If you want to have more protection and control over your investments, this is definitely a great choice!  
About Josh Plave:
Josh's experience in retirement accounts began at 16 when he opened his first Roth IRA and began trading equities. ​ Since then, after the unfortunate passing of his grandfather and mother, he was left with multiple Inherited IRAs. Through careful research and structuring, Josh has been able to further the legacy of prior generations and accelerate the growth of his family's capital. ​ 
This experience led to the creation of Wall to Main, where the lessons learned and opportunities found are meant to be shared, free of cost, for those who seek to preserve and grow their wealth for a prosperous future.
Resources:
·        Josh's Linkedin: https://www.linkedin.com/in/joshplave/ 
·        Company Website: https://www.walltomain.com/ 
·        Facebook Page: https://www.facebook.com/walltomain/ 
·        Instagram: https://www.instagram.com/walltomain/ 
·        Youtube: https://www.youtube.com/channel/UCOaC1lS
Connect with Cashflow Project!
·        Website
·        LinkedIn
·        Youtube
·        Facebook
The Cashflow Project
This is for busy professionals who are looking for financial freedom through passive income, with a focus on cashflow assets in Multifamily Real Estate. We will be covering a variety of topics such as buying, managing, and selling real estate assets, specifically apartments.
To learn more about us, visit tricityequity.com