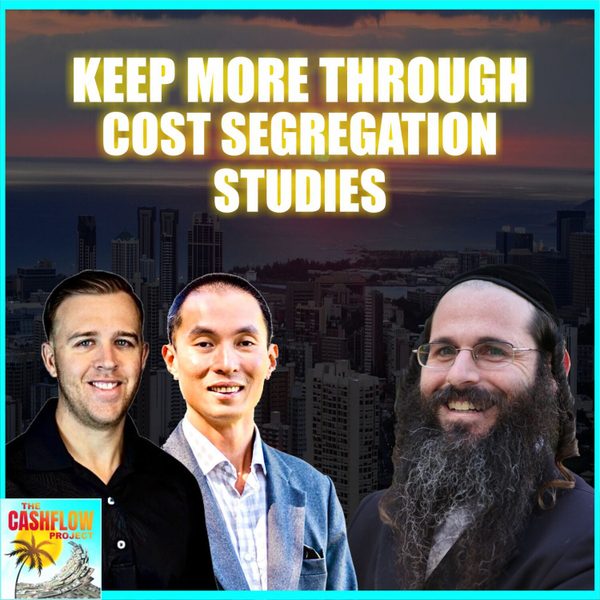 The Cashflow Project
CP23: Keep more through cost segregation studies with Yonah Weiss
E23
31:16
September 8th 2020
Join me and my co-host, Matt, as we chat with Yonah Weiss about why depreciation isn't necessarily a bad word and how you can use cost segregation to increase your tax write-offs and your cash flow.
Yonah is a powerhouse with property owners' tax savings. As Business Director at Madison SPECS, a national Cost Segregation leader, he has helped clients save tens of millions of dollars on taxes through cost segregation. He has a background in teaching and a passion for real estate and helping others. He's a real estate investor and host of the new podcast Weiss Advice. He's going to discuss how cost segregation works and who should use it. Stay tuned, and enjoy the episode!
 Depreciation and Cost Segregation
 Cost segregation is a way for you to save on income tax from your real estate investment and increase your cashflow by accelerating depreciation deductions.
 Looking at depreciation from this viewpoint, it wasn't such a bad thing after all. By speeding up your assets' depreciation, you can offset any income that you generate from your real estate investments and drive your bottom line.
 Cost segregation is a simple yet powerful tool that you can use as a real estate investor to increase property value and increase cash flow. And if you haven't done a cost segregation study for your investment properties yet, now may be the right time to explore this option.
 About Yonah Weiss:
Ever since I was young, I have been a teacher; my grandmother used to call it "the family business." The principle "If you know ABCs--teach ABCs" has always resonated with me. It's what drove me to teach professionally for over a decade, and it's what continues to drive me to help people save tons of money on income tax or invest in real estate.
Outline of the Episode:
●       [01:44] - Defining and understanding what depreciation is
●       [05:39] - Cost segregation is just an advanced form of depreciation.
●       [6:39] - Who should use a cost segregation study?
●       [8:40] - Why would someone perform cost segregation when the depreciation is recaptured at exit?
●       [10:44] - Recapture tax is something very serious that you need to consider when buying a property.
●       [12:45] - The price point of a cost segregation study based on the scope of work of the project
●       [14:48] - Madison SPECS' free feasibility analysis estimate
●       [16:52] - How will a cost segregation study increase your cash flow as a property owner?
●       [21:19] - You do not have to do cost segregation in the first year of ownership. You can get it retroactively.
●       [24:00] - When is the right time to do a cost segregation study?
Resources:
●       Facebook
●       Podcast
●       "Tax-Free Wealth" by Tom Wheelwright
Connect with The Cashflow Project!
●       Website
●       LinkedIn
●       YouTube
●       Facebook
The Cashflow Project
This is for busy professionals who are looking for financial freedom through passive income, with a focus on cashflow assets in Multifamily Real Estate. We will be covering a variety of topics such as buying, managing, and selling real estate assets, specifically apartments.
To learn more about us, visit tricityequity.com