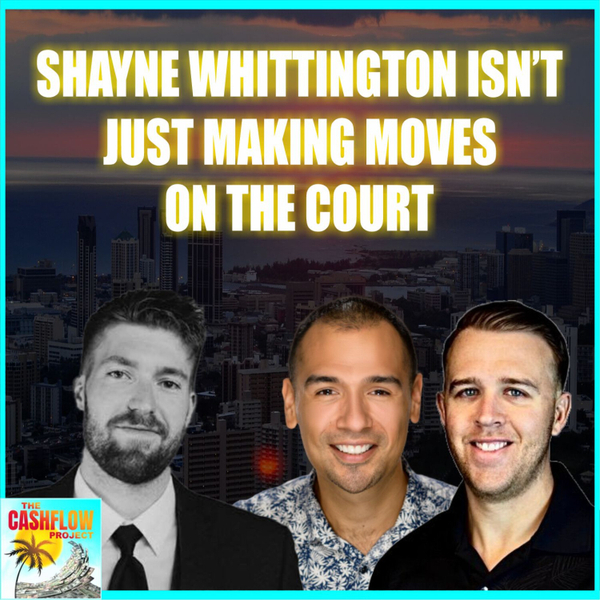 The Cashflow Project
Shayne Whittington isn't just making moves on the court
E45
1:08:34
February 9th 2021
Join Steve Fierros and his co-host, Matt Callihan, as they chat with Shayne Whittington about his experience of being a professional NBA player to becoming a commercial real estate syndicator. Shayne is the owner of AKW Investments, a commercial multifamily syndication company where they provide opportunities for working professionals to passively invest in multifamily properties. He is a dedicated person who is extremely passionate about sports and real estate. One of his goals is to share and educate athletes about real estate to achieve financial freedom through multifamily syndications!
Educating People about the Benefits of Real Estate
Getting into the real estate industry and investing passively offers so many great benefits. Becoming a real estate investor can change your life and provide you the time to pursue the things you really want. If you're thinking about quitting your full-time job that requires you to work 40 hours a week, real estate is definitely the right path for you!
There are a lot of people who are hesitant to start investing in real estate because it seems too good to be true. Sometimes it just appears to be that way because some successful people tend to highlight their success and do not share their struggles and failures. Although real estate can bring you the success you want, there are still many challenges you're going to encounter.
Don't get me wrong, real estate is worth it and can be done smoothly when you have the right people on your team. The benefits of investing in real estate provide investors with the opportunity to achieve financial freedom, creating their own legacy, the right to be their own boss, more time to spend with their family, and so much more!
They say that there are certainly enough deals for everyone in the real estate world. Shayne loves to help and educate people about real estate, sharing his passion with individuals who have the interest and potential. Moreover, no one should ever be forced to invest in real estate, make your choice and decide on your own. 
Learn the Process before Starting
Education and learning through experience is essential in every industry you get into. If you want people to trust and take you seriously, you have to know what you're doing. Learn the process, the ins and outs of what you're trying to pursue. It doesn't necessarily mean you have to know everything because that is impossible. However, if you want to take on leadership roles or starting your own company, you have to be a person who is knowledgeable about the system. Investing in your education and trying to find ways to gain experiences is crucial to your journey to success!
About Shayne Whittington: 
Shayne Whittington started investing in real estate in 2017 by starting Mitten Development Group LLC with two partners. A company focused on building high-end custom homes in Kalamazoo, Michigan. Wanting more of a passive income stream, in 2018, he started investing in single-family rentals in Michigan and Indiana. Now, he has passively invested in more than 534 units of multifamily syndications and is currently part of his first GP on a 165 unit deal in the Indianapolis MSA.
Resources: 
·        Phone: +1(269)998-9319 
·        Company Website: https://www.akwinvestments.com/ 
·        Shayne Whittington's Linkedin: https://www.linkedin.com/in/shayne
Connect with Cashflow Project!
·        Website
·        LinkedIn
·        Youtube
·        Facebook
The Cashflow Project
This is for busy professionals who are looking for financial freedom through passive income, with a focus on cashflow assets in Multifamily Real Estate. We will be covering a variety of topics such as buying, managing, and selling real estate assets, specifically apartments.
To learn more about us, visit tricityequity.com