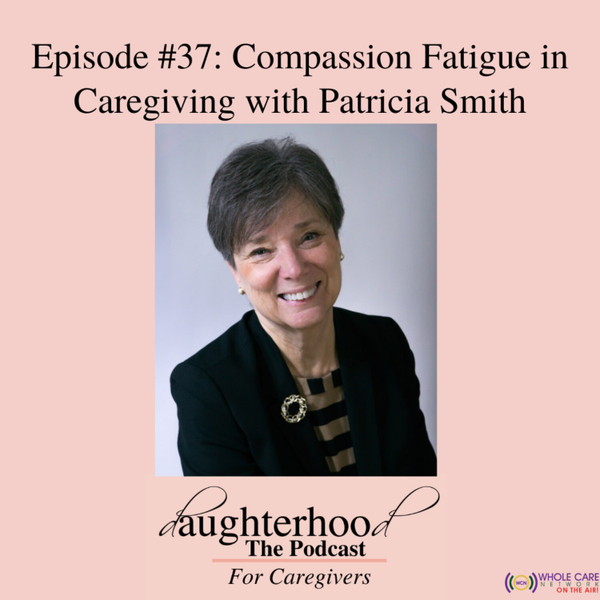 Compassion fatigue - as caregivers we've heard the term, but what does it mean and how can we prevent it from happening? Today my guest is Patricia Smith a certified compassion fatigue specialist with 20 years of training experience. As founder of the Compassion Fatigue Awareness Project© she writes, speaks, and facilitates trainings nationwide in service of those who care for others. 
She has presented to caregivers in numerous helping professions and has authored several books and training materials for caregivers, including the award-winning To Weep for a Stranger: Compassion Fatigue in Caregiving. In September 2016, she presented a TEDx talk on the subject.
Today Patricia shares not only how compassion fatigues happens, but the strategies we can use to support ourselves through our caregiving journey. 
Show Notes CLICK HERE
Daughterhood The Podcast: For Caregivers
Daughterhood The Podcast is hosted by Rosanne Corcoran, who's journey into caregiving began with a dementia diagnosis of her fiercely independent mother, opening the door to a 12-year journey into sandwich caregiving. She brings her authentic voice to each conversation and discusses challenges caregivers face with experts in all fields.
This monthly podcast aims to provide insight into navigating the healthcare system, resources, support, and community to caregivers. As Rosanne knows first hand, caregiving is filled with uphill challenges, stress and grief, while trying to do the best you can everyday. Every month she offers information, inspiration or even just a little company. Join her in Daughterhood.
Rosanne cared for her mother over a 12 year span starting as a stealth caregiver, to full time caregiver, to in-home, sandwich caregiver for her mother's final 6 years.
Rosanne created Daughterhood The Podcast: For Caregivers after experiencing first-hand the stress and isolation caregiving brings along with the lack of meaningful resources for caregivers. The podcast cultivates a dynamic group of subject matter experts to help listeners navigate these uncharted, and many times, tumultuous waters.
The podcast's subject matter has ranged from legal advice, to establishing boundaries, to end of life care, and the list continues to grow. Guests have included physicians, best-selling authors, dementia experts and more. Caregiving is inherently difficult and this podcast hopes to provide insight, resources, and skills to manage the challenges relating to caregiving, and to know you are not alone!
Rosanne has been featured in CNN Health, The Philadelphia Inquirer, Barron's, Next Avenue and others. She is also a proud member of AlzAuthors.
Agingcare.com named Daughterhood the Podcast: For Caregivers #1 in their list of Essential Caregiver Podcasts. Rosanne also facilitates a monthly Daughterhood Circle as well as a monthly DAWN dementia support group.