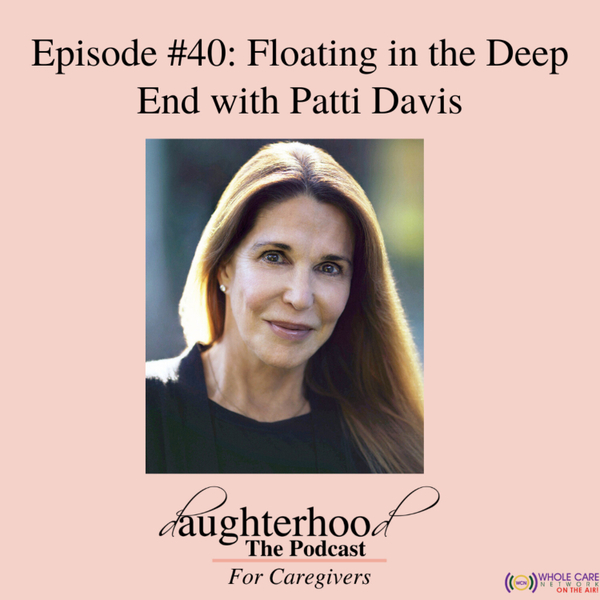 Patti Davis is an author, activist, advocate, and daughter of the 40th President of the United States, Ronald Reagan. She is a frequent contributor to media outlets including the New York Times and The Washington Post and has written several works of both fiction and nonfiction. She is the founder of Beyond Alzheimer's, a support group program for caregivers of people living with dementia.
Her latest book Floating in the Deep End: How Caregivers Can See Beyond Alzheimer's, recently released in paperback, is an extension of that support group. Part handbook, part memoir, Patti offers practical and important strategies for every stage of the disease.
I believe this book is a must read for dementia caregivers. Patti and I discuss the book and the many ways your life changes as a caregiver, the power of showing up and the importance of support.
https://www.barnesandnoble.com/w/floating-in-the-deep-end-patti-davis/1138668991
Daughterhood The Podcast: For Caregivers
Daughterhood The Podcast is hosted by Rosanne Corcoran, a former primary, sandwich, in-home caregiver, who's been there, done that. Rosanne also leads a monthly Daughterhood Circle support group, as well as a monthly DAWN dementia support group.
This monthly podcast aims to provide insight into navigating the healthcare system, resources, support, and community to those caring for their loved ones. As Rosanne knows first hand, caregiving is filled with uphill challenges, stress and grief, while trying to do the best for your loved one. This podcast offers information, inspiration or even just a little company. Join her in Daughterhood.
Rosanne cared for her mother over a 12 year span starting as a stealth caregiver, to full time caregiver, to in-home, sandwich caregiver for her mother's final 6 years.
Rosanne created Daughterhood The Podcast: For Caregivers after experiencing first-hand the stress and isolation caregiving brings along with the lack of meaningful resources for caregivers. The podcast cultivates a dynamic group of subject matter experts to help listeners navigate these uncharted, and many times, tumultuous waters.
The podcast's subject matter has ranged from legal advice, to establishing boundaries, to end of life care, and the list continues to grow. Guests have included physicians, best-selling authors, dementia experts and more. Caregiving is inherently difficult and this podcast hopes to provide insight, resources, and skills to manage the challenges relating to caregiving, and to know you are not alone!
Rosanne has been featured in CNN Health, The Philadelphia Inquirer, Barron's, Next Avenue and others. She is also a proud member of AlzAuthors.
Agingcare.com named Daughterhood the Podcast: For Caregivers #1 in their list of Essential Caregiver Podcasts. Rosanne also facilitates a monthly Daughterhood Circle as well as a monthly DAWN dementia support group.