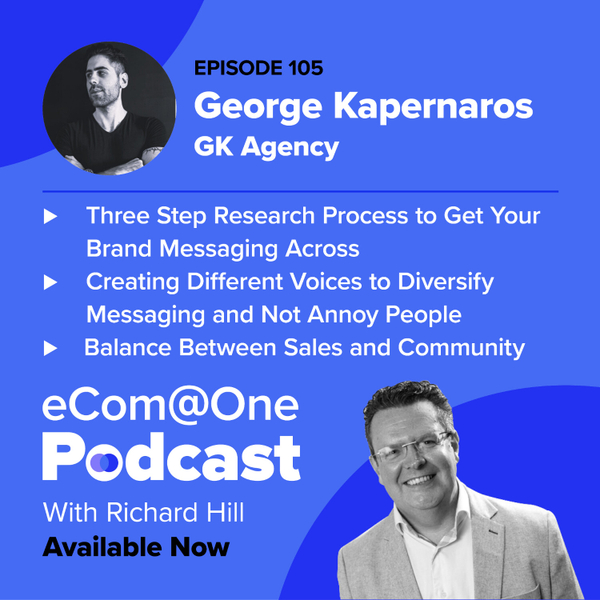 eCom@One with Richard Hill
E105: George Kapernaros - How to Use Email Marketing to Get Your Brand Message Across and Build Relationships With Your Customers
George Kapernaros is the Founder of GK Agency, a business that specialises in customer retention. He has scaled new brands to 6 figures and doubled the conversion rates of 9 figure brands with millions of subscribers with retention first email marketing. Find out what that means in this podcast. 
In this episode, he discusses how businesses can crack their messaging and create a killer campaign structure. Stop hitting your head against the wall and find out how to get heard in the noisy inbox. Listen to find out the biggest mistakes eCommerce marketers are making with email, so you don't.
George divulges his three step research process to getting your brand messaging across, how to create different voices to diversify your messaging and how NOT to annoy people. Is Klaviyo an eCommerce nightmare? Are companies focusing too much on community, not sales? He shares all. 
Tune in to find out what you need to be focusing on over the next 12 months to scale your business with email marketing.
Enjoy!
eCom@One with Richard Hill
Unfiltered conversations with eCommerce owners, industry experts and more...
Our podcast is raw, honest and damn right insightful, as we chat to some of the best minds in eCommerce.
Welcome to the eCom@One Podcast.
Hello there,
So, you are a passionate eCommerce enthusiast just like us?
Richard Hill, our CEO, interviews guests from a wide range of eCommerce related industries. On this weekly podcast, we interview store owners, marketers and those on the frontline of online retailing.
Listen to their career stories, their tips for success and the challenges that they have faced in eCommerce. Each episode will have its own personal spin from, motivation, leadership to strategy. 
Don't get FOMO. Subscribe now!