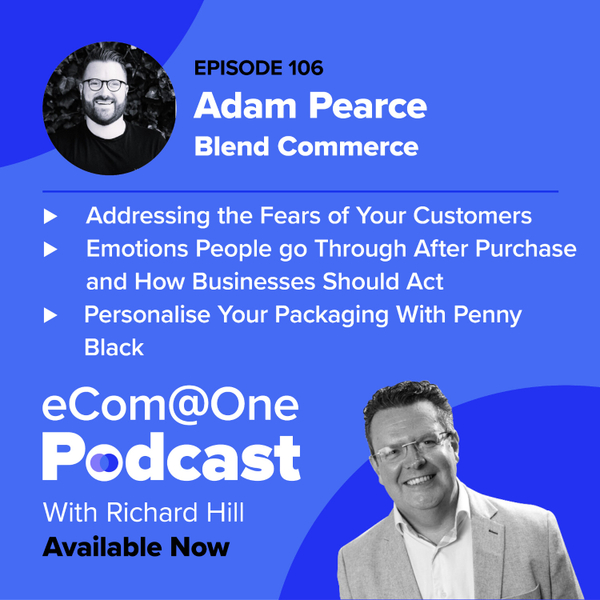 eCom@One with Richard Hill
E106: Adam Pearce - Focusing on the Little Touches to Improve the User Experience and Increase Your Customer's Lifetime Value
Adam Pearce is the CEO of Blend Commerce, one of the UK's fastest growing Shopify and Klaviyo agencies that specialises in customer experience. He helps some of Shopify's best loved brands deliver an insane eCommerce adventure on their website to increase their sales, average order value, retention and customer lifetime value.
In this episode, he discusses why a business should focus time and resources on improving the user experience on their site and the key areas to focus on to achieve this. He shares the importance of addressing the fears of your customers and how to replace the annoying pop up with something a lot more personalised.
One of the most important aspects of eCommerce lies within fulfilment and post purchase. Adam shares how brands should act depending on the emotions of their customers to keep them happy and coming back for more. He divulges exactly what is killing your customers off, hint, it's something we constantly bang on about. 
Find out what customer lifetime value is, how to improve it and how to measure it in this week's eCommerce podcast.
eCom@One with Richard Hill
Unfiltered conversations with eCommerce owners, industry experts and more...
Our podcast is raw, honest and damn right insightful, as we chat to some of the best minds in eCommerce.
Welcome to the eCom@One Podcast.
Hello there,
So, you are a passionate eCommerce enthusiast just like us?
Richard Hill, our CEO, interviews guests from a wide range of eCommerce related industries. On this weekly podcast, we interview store owners, marketers and those on the frontline of online retailing.
Listen to their career stories, their tips for success and the challenges that they have faced in eCommerce. Each episode will have its own personal spin from, motivation, leadership to strategy. 
Don't get FOMO. Subscribe now!