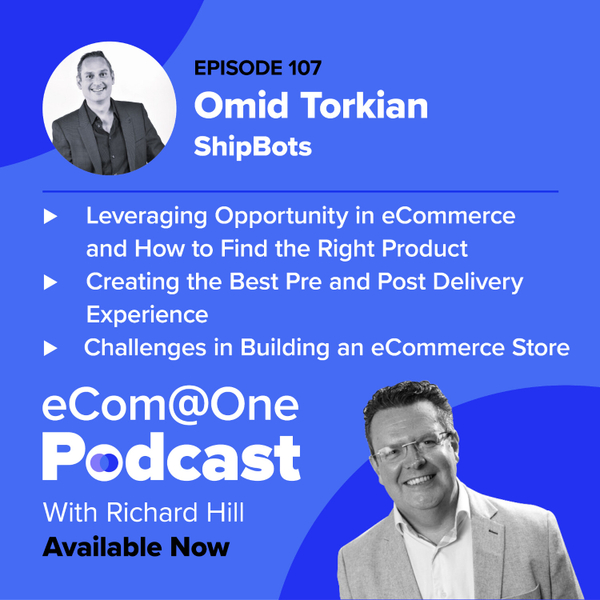 Omid Torkian is the Co-Founder of Shipbots, a software that integrates with your sales channels, allowing hassle-free shipping and fulfilment. He has built a hugely successful eCommerce store from scratch. Find out how he has navigated the challenges of eCommerce retail in this podcast. 
In this episode, he discusses how to leverage opportunities in eCommerce and find the right product. He shares his number one advice to every eCommerce retailer for running a successful eCommerce store and you don't want to miss out hearing what the biggest mistakes retailers are making right now. 
Fulfilment is more important than ever and that's why you need to deliver a seamless pre and post experience for your customers. He divulges his top tips for getting customers to engage with you after the purchase has been made to increase customer lifetime value. 
Keep your team happy, embrace change and adapt to add longevity to your business today!
Unfiltered conversations with eCommerce owners, industry experts and more...
Our podcast is raw, honest and damn right insightful, as we chat to some of the best minds in eCommerce.
Welcome to the [email protected] Podcast.
Hello there,
So, you are a passionate eCommerce enthusiast just like us?
Richard Hill, our CEO, interviews guests from a wide range of eCommerce related industries. On this weekly podcast, we interview store owners, marketers and those on the frontline of online retailing.
Listen to their career stories, their tips for success and the challenges that they have faced in eCommerce. Each episode will have its own personal spin from, motivation, leadership to strategy. 
Don't get FOMO. Subscribe now!