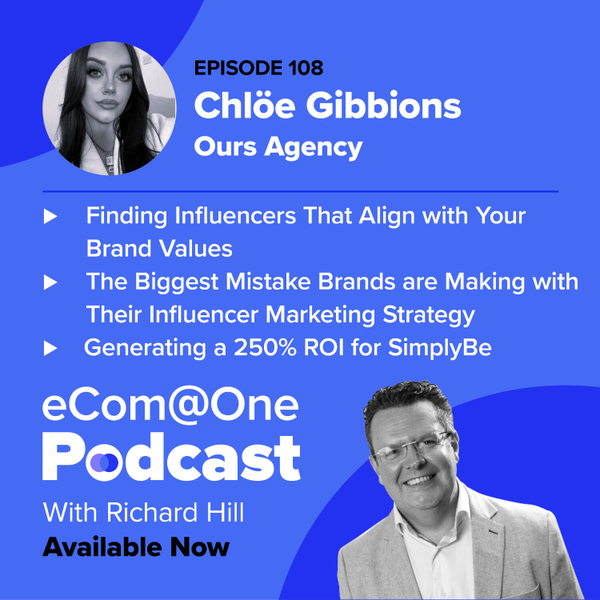 Chlöe Gibbions is the Director of Ours Agency, a data-first Influencer Marketing Agency. After working for In The Style and SimplyBe, Chlöe took the leap to run her own business and has now worked on hundreds of stand out campaigns. She shares how she made her moves into the industry in this podcast. 
In this episode, she discusses the power of influencer marketing and how businesses can reach new audiences and instil consumer trust with their brand. Find out how to spot and work with humans that actually align with your brand values.
Chlöe shares her outreach strategies that have generated SimplyBe a ROI of 250%, tools she uses on the daily and how the hell costs work. Don't know where to start? No problem. Chlöe explains what next steps businesses should take to run a killer influencer campaign and how to use this digital channel to scale. 
Of course, we discuss the mistakes brands are making that are costing them wonga and lastly, how to truly measure the success from this channel.
Unfiltered conversations with eCommerce owners, industry experts and more...
Our podcast is raw, honest and damn right insightful, as we chat to some of the best minds in eCommerce.
Welcome to the [email protected] Podcast.
Hello there,
So, you are a passionate eCommerce enthusiast just like us?
Richard Hill, our CEO, interviews guests from a wide range of eCommerce related industries. On this weekly podcast, we interview store owners, marketers and those on the frontline of online retailing.
Listen to their career stories, their tips for success and the challenges that they have faced in eCommerce. Each episode will have its own personal spin from, motivation, leadership to strategy. 
Don't get FOMO. Subscribe now!