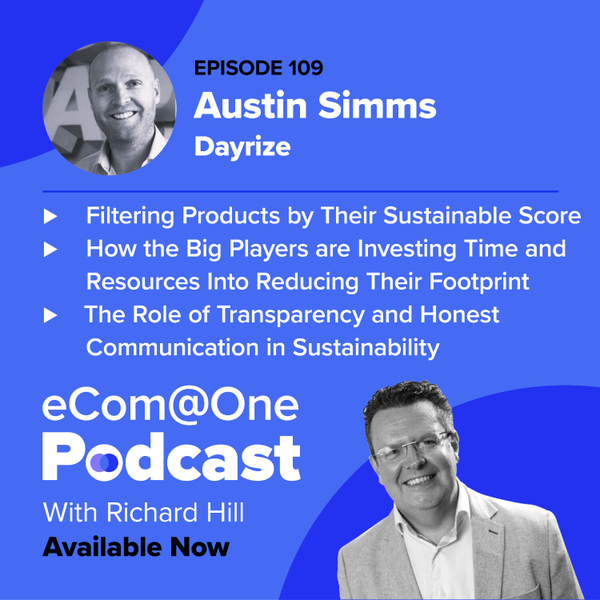 [email protected]

with Richard Hill
E109: Austin Simms - Surviving the Future of eCommerce With Transparent Communication. Find out How Sustainable Your Products Are With Dayrize
Austin Simms is the CEO of Dayrize, a sustainable impact measurement technology that allows businesses to understand the impact of their products on the environment by assessing environmental and social factors.  Austin has worked in the world of eCommerce for over 20 years for some of the most respected brands, such as Nike and TomTom. 
In this episode, Austin shares some immediate changes eCom business can make to do better for the planet. How their technology has helped companies like Target in the US be more transparent with their customers. 
He gives an in-depth insight into the tool, the quality of the data and how it analyses at a product level. This allows brands to give their customers the option to add a sustainable filter on their website. However, Austin shares the scary truth, why people's behaviour isn't matching up to the conversation. 
Sustainability is one of the top three priorities for businesses right now, but there's still a long way to go. Find out how your business can validate your sustainability claims, reduce costs and build brand validity with this tool.
Unfiltered conversations with eCommerce owners, industry experts and more...
Our podcast is raw, honest and damn right insightful, as we chat to some of the best minds in eCommerce.
Welcome to the [email protected] Podcast.
Hello there,
So, you are a passionate eCommerce enthusiast just like us?
Richard Hill, our CEO, interviews guests from a wide range of eCommerce related industries. On this weekly podcast, we interview store owners, marketers and those on the frontline of online retailing.
Listen to their career stories, their tips for success and the challenges that they have faced in eCommerce. Each episode will have its own personal spin from, motivation, leadership to strategy. 
Don't get FOMO. Subscribe now!