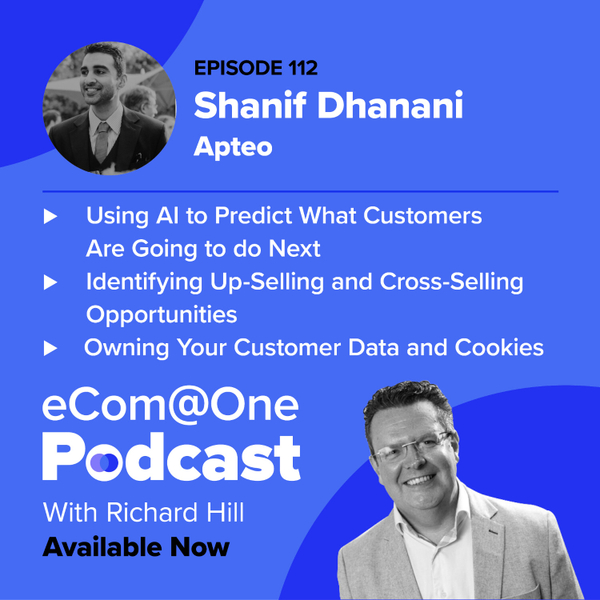 eCom@One with Richard Hill
E112: Shanif Dhanani - Using AI and Data to Identify Up-Selling and Cross-Selling Opportunities With Your Customers
Shanif Dhanani is the Founder of Apteo, a software that helps eCommerce brands personalise their marketing campaigns by using AI to predict what their customers will buy next. Shanif has worked on the Data Science team for Twitter, so he knows a thing or two about data!
In this podcast, Shanif shares how companies can use Apteo to identify upsell and cross-sell opportunities without being pushy, the biggest mistakes companies are making with data collection and how marketers can keep up to date with the latest developments. 
Find out how to collect high-quality first party data or be at risk of crumbling once the changes in cookies happen. Shanif chats about how every eCommerce business can build a quiz to engage the customer, to collect good data and show them relevant products. 
Finally he discloses his opinion on Elon Musk buying Twitter, you don't want to miss this one!
eCom@One with Richard Hill
Unfiltered conversations with eCommerce owners, industry experts and more...
Our podcast is raw, honest and damn right insightful, as we chat to some of the best minds in eCommerce.
Welcome to the eCom@One Podcast.
Hello there,
So, you are a passionate eCommerce enthusiast just like us?
Richard Hill, our CEO, interviews guests from a wide range of eCommerce related industries. On this weekly podcast, we interview store owners, marketers and those on the frontline of online retailing.
Listen to their career stories, their tips for success and the challenges that they have faced in eCommerce. Each episode will have its own personal spin from, motivation, leadership to strategy. 
Don't get FOMO. Subscribe now!