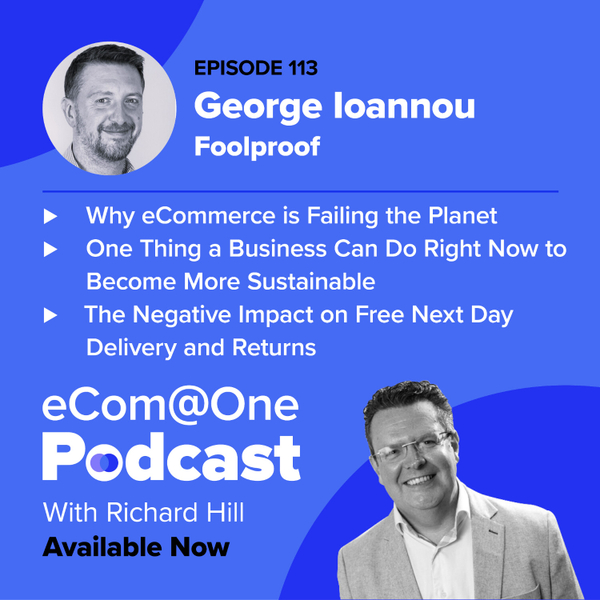 eCom@One with Richard Hill
E113: George Ioannou - Why eCommerce Is Failing The Planet and What We Can Do About It
E113
37:48
August 15th 2022
George Inannou is the Managing Partner at Foolproof, an experience design company. They work with global brands such as, The White Company, Shell, Suzuki, Post Office and Sony PlayStation. George has worked in a variety of sectors including, retail, apparel, financial, FMCG, luxury, travel and more over the past 20 years! 
In this podcast, George shares how he found his passion for eCommerce. Most importantly, he tells us why eCommerce is failing the planet at an alarming rate. Does this responsibility lie with the business or the consumer? Listen to find out who. 
He chats about the negative impact and wins of next day delivery and how businesses can reduce the amount of returns they get. Tune in to find out the future of sustainability and one thing you can do right now to reduce your carbon footprint. 
If you are an eCommerce business wanting to become more sustainable, this podcast is for you.
eCom@One with Richard Hill
Unfiltered conversations with eCommerce owners, industry experts and more...
Our podcast is raw, honest and damn right insightful, as we chat to some of the best minds in eCommerce.
Welcome to the eCom@One Podcast.
Hello there,
So, you are a passionate eCommerce enthusiast just like us?
Richard Hill, our CEO, interviews guests from a wide range of eCommerce related industries. On this weekly podcast, we interview store owners, marketers and those on the frontline of online retailing.
Listen to their career stories, their tips for success and the challenges that they have faced in eCommerce. Each episode will have its own personal spin from, motivation, leadership to strategy. 
Don't get FOMO. Subscribe now!