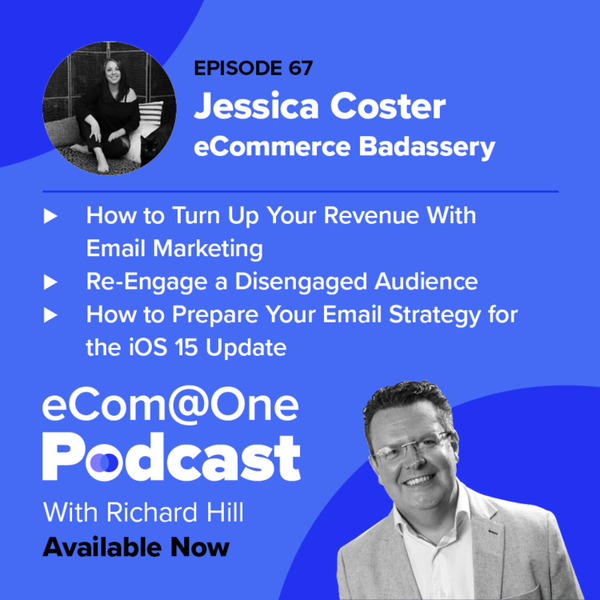 Jessica is the CEO and Founder of eCommerce Badassery, offering eCommerce and email marketing strategy coaching for female entrepreneurs who want to scale their businesses. Jessica's passion for helping other businesswomen came after she noticed that there was a gap in education for female entrepreneurs. She now strives to use what she's learnt in her many years in the eCommerce space to help female-led businesses thrive. 
In this episode we focus on Jessica's email marketing expertise and she shares a whole host of actionable strategies to take your email marketing to the next level and maximise its revenue. She talks about the benefits that email marketing can bring to your business and the importance of using the data from this to inform your future marketing. 
We also cover the ideal email frequency depending on the size of your business, the best ways to approach disengaged audiences, Jessica's effective audience segmentation method, as well as how to prepare your strategy so that the upcoming iOS 15 update doesn't hit too hard.
If you're an eCommerce store looking to ramp up your email marketing game, then you don't want to miss this one!
Unfiltered conversations with eCommerce owners, industry experts and more...
Our podcast is raw, honest and damn right insightful, as we chat to some of the best minds in eCommerce.
Welcome to the [email protected] Podcast.
Hello there,
So, you are a passionate eCommerce enthusiast just like us?
Richard Hill, our CEO, interviews guests from a wide range of eCommerce related industries. On this weekly podcast, we interview store owners, marketers and those on the frontline of online retailing.
Listen to their career stories, their tips for success and the challenges that they have faced in eCommerce. Each episode will have its own personal spin from, motivation, leadership to strategy. 
Don't get FOMO. Subscribe now!