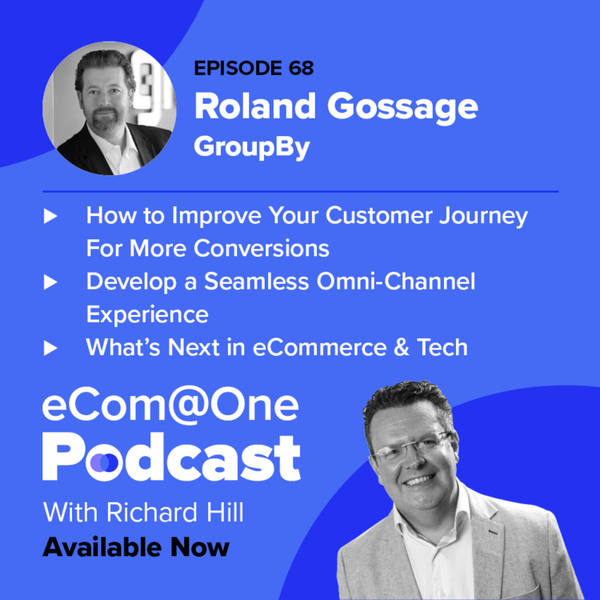 Roland has worked in the retail space for the last 20 years, the last 15 of those specifically being in eCommerce. In 2013 he became the CEO of GroupBy, a 70-strong team of conversion specialists based in Toronto who are dedicated to boosting the sales of eCommerce sites with their suite of eCommerce tools. 
Roland is committed to creating seamless omni-channel experiences and improving existing eCommerce experiences and has done so for some of America's largest companies including Bed Bath & Beyond and CVS Pharmacy. 
In this episode, he explains how to improve the customer journey on your site with search and navigation, how to get started with creating a more personalised experience, as well as how to use the data you collect within your brick and mortar store to create an improved experience online. 
Roland shares some great quick wins you can start implementing to your site straight away to immediately improve your site experience, so get listening and use these tips to really ramp up your conversions!
Unfiltered conversations with eCommerce owners, industry experts and more...
Our podcast is raw, honest and damn right insightful, as we chat to some of the best minds in eCommerce.
Welcome to the [email protected] Podcast.
Hello there,
So, you are a passionate eCommerce enthusiast just like us?
Richard Hill, our CEO, interviews guests from a wide range of eCommerce related industries. On this weekly podcast, we interview store owners, marketers and those on the frontline of online retailing.
Listen to their career stories, their tips for success and the challenges that they have faced in eCommerce. Each episode will have its own personal spin from, motivation, leadership to strategy. 
Don't get FOMO. Subscribe now!