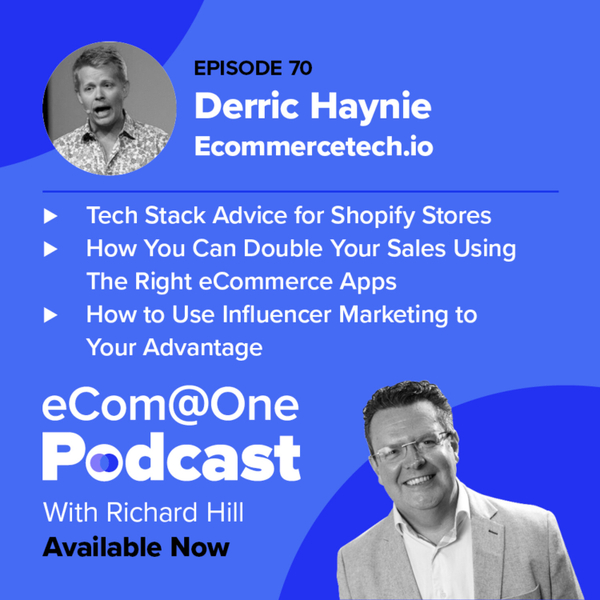 Derric is the Chief eCommerce Technologist at Ecommercetech.io, where he and his team help eCommerce businesses discover and buy the right tools to scale their stores. From working in the eCommerce space for 6+ years, Derric noticed the consistent problems eCommerce store owners were having finding the right apps to enhance their stores, and developed Ecomercetech.io to remove this disconnect.
In this episode, Derric explains where the best place to start is with your tech stack, or if you've already got an established suite of tools, then how to make the right choices when it comes to growing your business even further. 
He also discusses how to use eCommerce apps to get in the minds of your customers and develop your strategy around their needs, as well as diving into the realms of influencer marketing, including discussing how to use your existing customer base to identify influencers who are already invested in your brand and how to use this to your advantage.  
If you feel like you're stuck in a rut trying to find the best tech for your store, or want to try new ways of improving your customer retention or boosting sales, then Derric has some fantastic advice in this episode. 
Unfiltered conversations with eCommerce owners, industry experts and more...
Our podcast is raw, honest and damn right insightful, as we chat to some of the best minds in eCommerce.
Welcome to the [email protected] Podcast.
Hello there,
So, you are a passionate eCommerce enthusiast just like us?
Richard Hill, our CEO, interviews guests from a wide range of eCommerce related industries. On this weekly podcast, we interview store owners, marketers and those on the frontline of online retailing.
Listen to their career stories, their tips for success and the challenges that they have faced in eCommerce. Each episode will have its own personal spin from, motivation, leadership to strategy. 
Don't get FOMO. Subscribe now!