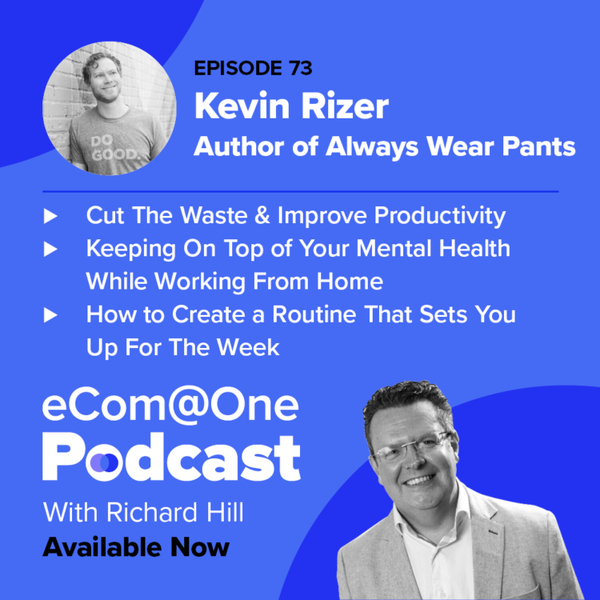 Kevin Rizer is the author of 'Always Wear Pants and 99 Other Tips for Surviving & Thriving While You Work From Home', as well as the CEO and Founder of Emmy's Best Pet Products.
Ever since setting up Emmy's Best Pet Products 7 years ago, Kevin has taken his eCommerce venture as an opportunity to work fully remotely, and has since been reaping the benefits. In this episode, Kevin shares what he's learned since working from home and gives some great advice on how to maximise its advantages, such as schedule flexibility and increased productivity, which are difficult to achieve in an office environment. 
He discusses common problems that people face when working from home, such as feelings of loneliness and lack of work/life boundaries, how to actually enjoy working from home when you love the buzz of the office, as well as how businesses can in fact benefit from having their employees working remotely. 
If you're working remotely and want to make it work to your advantage, then Kevin has some fantastic advice on making your time working from home enjoyable. 
Unfiltered conversations with eCommerce owners, industry experts and more...
Our podcast is raw, honest and damn right insightful, as we chat to some of the best minds in eCommerce.
Welcome to the [email protected] Podcast.
Hello there,
So, you are a passionate eCommerce enthusiast just like us?
Richard Hill, our CEO, interviews guests from a wide range of eCommerce related industries. On this weekly podcast, we interview store owners, marketers and those on the frontline of online retailing.
Listen to their career stories, their tips for success and the challenges that they have faced in eCommerce. Each episode will have its own personal spin from, motivation, leadership to strategy. 
Don't get FOMO. Subscribe now!