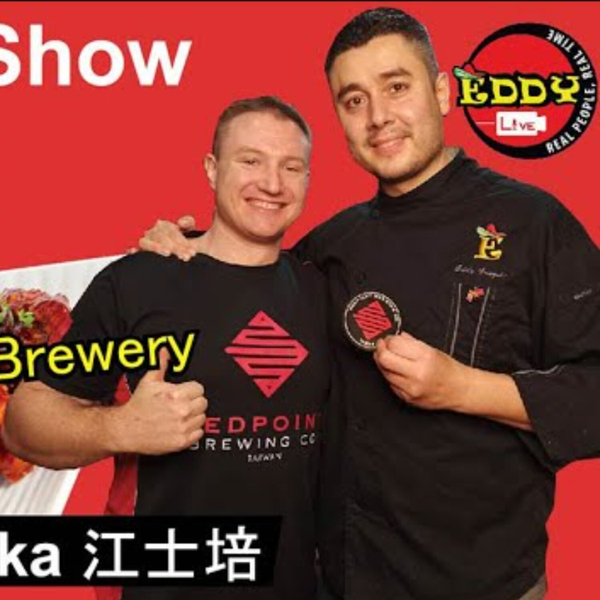 Eddy LIVE
Eddy LIVE Show #72, Spencer Jemelka 江士培, Entrepreneur, Redpoint Brewing Co.
S1E72
1:42:52
February 18th 2021
Spencer Jemelka is one of if not the OG in the #TaiwanCraftBeer​ Scene.
Spencer Jemelka 江士培是台灣在地精釀啤酒產業的大師級人物,他創立了紅點手工鮮釀啤酒
He started out brewing small-scale batches for his Rugby mates and now is one of the biggest local craft beer breweries in #Taiwan​.
他一開始只是為他的球友釀製少量的啤酒,現在卻已經成為台灣最大的精釀品牌之一
Join us while Spencer tells about his journey from beginner to local legend while we enjoy a few pints and some spicy wings.
來加入我們的直播,一手辣雞翅,一手精釀啤酒,聊聊他是如何從一個菜鳥初學者到創立在地品牌的經過
Subscribe to the channel: www.eddy.live
訂閱我們的頻道:www.eddy.live
Follow Redpoint Brewing Company: https://www.facebook.com/redpointbrewing​
Eddy LIVE
Being a restaurant owner, Eddy Gonzalez is fortunate enough to meet people from all walks of life.
From Pro MMA fighters to Globe Trekkers, CEO's to Street Vendors, Entrepreneurs to Professors, YouTubers to Certified Soccer Coaches!
We get to hear all of their stories and we want to share them with you, LIVE, unedited and while we munch on Hot Wings!
We have Episodes in both English and Mandarin Chinese!
Eddy LIVE is a platform for you, the viewers to meet other cool people out here in Taiwan and Asia doing amazing things.
Eddy LIVE is the platform for you to share your Taiwan or Asia story to the world!
Most of you that know me (Eddy), know that I am a restaurant owner, entrepreneur and all-round positive happy guy.
I am blessed to get to meet people in my restaurants that are just amazing, doing amazing things and from all walks of life.
I am here to share these wonderful stories with the world.
Please share the Podcast and subscribe our channel if you enjoyed the show.
身為一位餐廳老闆,Eddy很慶幸這一路走來遇到不同際遇的人。
例如,專業的格鬥選手、旅遊世界各地的客人、總裁到小販,創業家到教授,網紅和國際級足球教練。
我們很幸運以現場直播聊天的方式,一邊品嚐美味的辣雞翅時,與您分享他們的故事。
根據來賓的需求,我們分別以英文或中文來收錄各單元。
Eddy LIVE是您可以大方分享台灣或亞洲的故事給全世界的一個平台。
大多數的人知道的Eddy是一位餐廳老闆、創業家、以及生性開朗的人。
我很慶幸在我的餐廳認識了許多很棒的人,他們的人生都擁有許多美好的際遇。
我在這的初衷就是將這些美麗的故事發揚光大。
若喜歡我和我的秀,請各位分享、訂閱我的直播頻道。
Support Us
Donate with