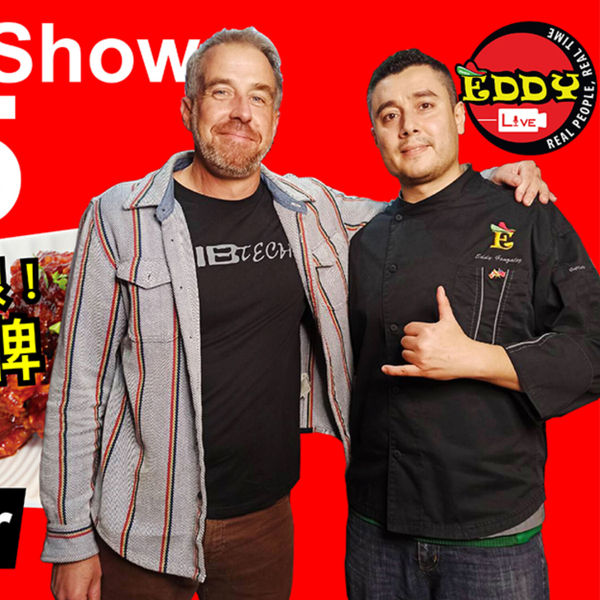 Eddy LIVE
Eddy LIVE Show Episode #65, Jason Sedor Entrepreneur/ Sedor's Farm 煙燻手工培根
S1E65
2:23:07
December 31st 2020
What do you do when you are living on Paradise Island and there is no Bacon?!
當你遠從異國來到台灣這個寶島,卻吃不到想吃的培根...該怎麼辦?
Well you could complain about it on Facebook, wait for someone to possibly start importing it or if you are #JasonSedor, you just make your own!
一般人頂多就是在Facebook抱怨個幾句,然後乖乖等待進口商代理
但是,Jason Sedor 卻選擇乾脆自己做培根!
Seriously, #Sedor'sFarm has been producing what I would say is the best bacon on the island for years now and the only downside is if I'm out at a breakfast place and they DON'T have Sedor's bacon then I don't order it.
認真地說,Sedor's farm 煙燻手工培根是我吃過最美味的培根,沒有之一!
它唯一的缺點就是,如果早餐店沒有它們的培根,我就寧可不吃了!
To be blunt, I'd never had bacon this good in my life, in Taiwan, Canada or Mexico.
它毫無疑問是我心目中最好吃的培根,不論是在台灣、加拿大、還是墨西哥
I like to describe Sedor's Bacon as the cadillac of bacon.
甚至私下將它評為「培根界的凱迪拉克」
Jason has recently expanded his menu and it continues to grow so do yourself a favor and BUY THIS BACON!
Jason近期在菜單上增加了新的品項,極力推薦大家買來吃吃看!不會後悔的!
Join Eddy and Jason while they discuss what brough Jason to Taiwan and why he started to create this amazing product LIVE tonight from Eddy's Cantina!
今晚,一起來加入我們在艾迪墨西哥餐廳的直播!
來聽聽Jason來到台灣的緣由,還有發展培根品牌的經過!
Subscribe to the channel for more content you will love: www.eddy.live
看更多有趣的內容,歡迎訂閱我們的頻道:www.eddy.live
Order your Bacon here: http://www.sedorsfarm.com/order
訂購好吃的培根:http://www.sedorsfarm.com/order
Love our content?
Perhaps you could buy me a coffee?: https://www.buymeacoffee.com/Eddylive
Eddy LIVE
Being a restaurant owner, Eddy Gonzalez is fortunate enough to meet people from all walks of life.
From Pro MMA fighters to Globe Trekkers, CEO's to Street Vendors, Entrepreneurs to Professors, YouTubers to Certified Soccer Coaches!
We get to hear all of their stories and we want to share them with you, LIVE, unedited and while we munch on Hot Wings!
We have Episodes in both English and Mandarin Chinese!
Eddy LIVE is a platform for you, the viewers to meet other cool people out here in Taiwan and Asia doing amazing things.
Eddy LIVE is the platform for you to share your Taiwan or Asia story to the world!
Most of you that know me (Eddy), know that I am a restaurant owner, entrepreneur and all-round positive happy guy.
I am blessed to get to meet people in my restaurants that are just amazing, doing amazing things and from all walks of life.
I am here to share these wonderful stories with the world.
Please share the Podcast and subscribe our channel if you enjoyed the show.
身為一位餐廳老闆,Eddy很慶幸這一路走來遇到不同際遇的人。
例如,專業的格鬥選手、旅遊世界各地的客人、總裁到小販,創業家到教授,網紅和國際級足球教練。
我們很幸運以現場直播聊天的方式,一邊品嚐美味的辣雞翅時,與您分享他們的故事。
根據來賓的需求,我們分別以英文或中文來收錄各單元。
Eddy LIVE是您可以大方分享台灣或亞洲的故事給全世界的一個平台。
大多數的人知道的Eddy是一位餐廳老闆、創業家、以及生性開朗的人。
我很慶幸在我的餐廳認識了許多很棒的人,他們的人生都擁有許多美好的際遇。
我在這的初衷就是將這些美麗的故事發揚光大。
若喜歡我和我的秀,請各位分享、訂閱我的直播頻道。
Support Us
Donate with