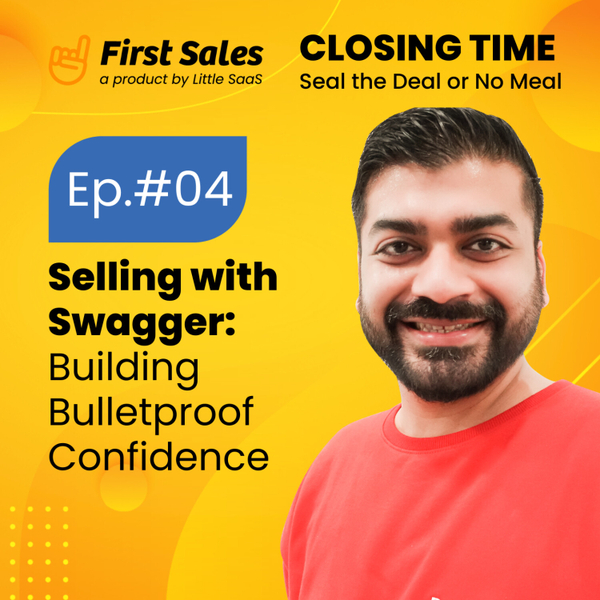 Today's Closing Time podcast tackles building bulletproof confidence and selling with swagger.
Research shows self-assurance is the #1 sales skill. Udit shares 5 proven strategies to develop unshakable confidence:
Power posing before calls
Crafting your sales origin story
Perfecting a sales mantra
Overpreparing
Dressing for success
Confidence can be learned and is critical for sales domination. Implement these 5 tips to transform into a revenue-driving superhero.
Crush quotas, generate insane value for clients, and sell with boldness by boosting self-assurance. Subscribe and share the show with your squad. Check out FirstSales.io for outreach tools to book more demos.
Closing Time by Firstsales.io
Welcome to Closing Time by Firstsales.io:
Closing Time: Seal the Deal or No Meal is the sales podcast that helps you master the art of closing and dominate your number goals. Join host Udit Goenka, Founder & CEO of Firstsales.io, as he shares unconventional tactics used by today's top closers to spark curiosity, build instant rapport, demonstrate value, and make it stupid simple for prospects to do business with you.
If you want to boost your sales skills and achieve quota-crushing results, you can't afford to miss an episode of Closing Time. Udit brings over a decade of experience sending tens of thousands of cold emails and pioneering new outreach strategies. Expect actionable insights on cold email best practices, objections handling frameworks, sales psychology tips, and much more from this master closer.
On Closing Time, you'll discover:
The secrets to crafting irresistible cold email subject lines that spark curiosity
How to build instant rapport with prospects using a simple greeting tweak
Value-driven email structures that demonstrate you understand prospect pain points
Proven frameworks for handling any objection prospects throw your way
Actionable sales psychology insights into the mind of your prospect
Tools and strategies for identifying the right decision makers to reach out to
Templates and examples from emails that generated >60% response rates
How top closers leverage social proof and scarcity tactics on sales calls
Closing Time brings the energy, strategies, and mindsets of the world's highest-paid closers right to your headphones. Whether you're looking to ramp up your cold outreach results, polish your objections handling skills, or simply gain the confidence and motivation needed to hit your targets, this podcast will help take your sales game to the next level.
Hit subscribe now - multiple new episode lands each Sunday with tactical tips to help you seal more deals, achieve quota, and earn that commission check. The clock is ticking, so make the most of your sales time with Closing Time today!