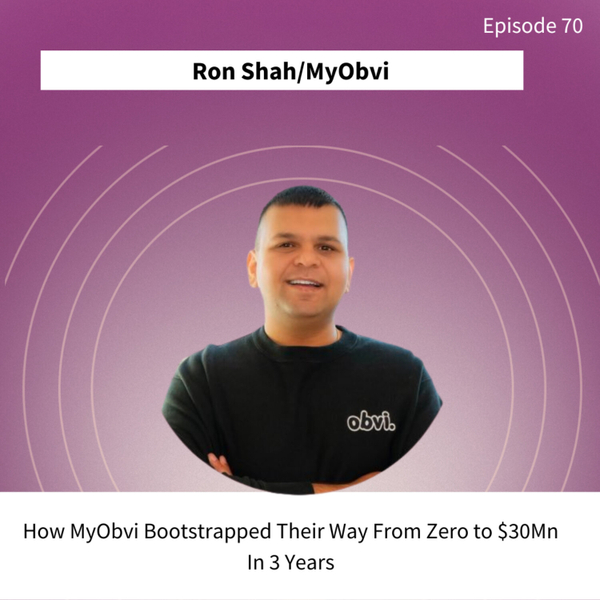 Ron Shah was kind enough to share his e-commerce business lessons (not very common). Here's what we've discussed:
1:52 - The beginning of MyObvi: How three friends wanted to build their own brand
8:41 - How they used scarcity and social proof to create FOMO
10:53 - Journey till 200K
13:35 - What changed at $1mn revenue
14:50 - What changed at $10mn revenue
15:49 - What they different from $10-30Mn revenue
17:01 - How do they build a community as an ecommerce company?
18:48 - Mental models to grow Instagram organic
21:04 - How everyone is a CEO at My Obvi
Key links
My newsletter to get 10 best learning from all these podcasts: https://aazarshad.com/newsletter/
Ron's Tweet thread on his business: https://twitter.com/obviceo/status/1509933638154133513
Check out Myobvi
Ash is a great follow to learn performance marketing: https://twitter.com/ashvinmelwani
Growth Marketing Stories
Growth Hacking is BS. There's no quick way of making tons of money in the short term. Instead, we should focus on growth stories and growth flywheels. I believe you have to wait it out and do consistently smaller experiments, and initiatives to grow business as a growth marketer. This show is for growth marketers.
This is a show about growth marketing stories, where we explore how growth marketers and their case studies explore deeply what's really moving their business needle and to get inspired.
Every week we'll focus on one inspiring story that will tickle your creative neurons to find inspiration for your own work. 
This is Growth Marketing Stories.