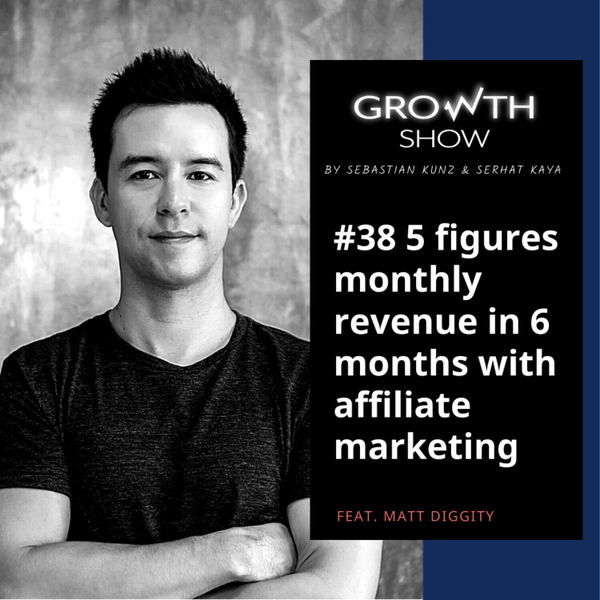 Growth Show
#38 Five figures monthly revenue in 6 months with affiliate marketing
S2E39
41:42
January 5th 2021
In this episode of the Growth Show we have the pleasure to talk with Matt Diggity.
Matt is the founder of Diggity Marketing, LeadSpring, The Search Initiative, Authority Builders, The Affiliate Lab, and The Chiang Mai SEO Conference.
A few of the amazing insights hidden in this episode:
Matt shares with us how he first started with Affiliate projects and how he managed to get to 5 figures monthly revenue within 6 months,
why testing is super important when doing SEO and his formula for affiliate projects,
when it might be a good idea to spend money on links,
how to be productive while managing lots of projects,
and much more!
Tune in and share if you love what you hear!
Growth Show
The Growth Show is a business podcast all about growth.
The hosts Sebastian Kunz and Serhat Kaya are exploring the topic from different perspectives with different guest speakers. Especially from the personal as well as business perspective of their speakers. The speakers are mostly successful entrepreneurs with an amazing track record, growth hackers, practitioners of interesting marketing tactics and growth hacks, coaches and other amazing and interesting people with different backgrounds and experience.
How it began: Like all great stories Sebastian and Serhat were sitting in a bar and talked about different stuff. Until they realized, that they both are interested in hosting a podcast. So they teamed up and tried to figure out what topic would be interesting. Somehow it ended up in the topic growth. All in all the idea of this podcast is to figure out how a podcast works and how podcasts can be grown.
Official LinkedIn Group for discussions about the topic Growth: https://www.linkedin.com/groups/8795377/